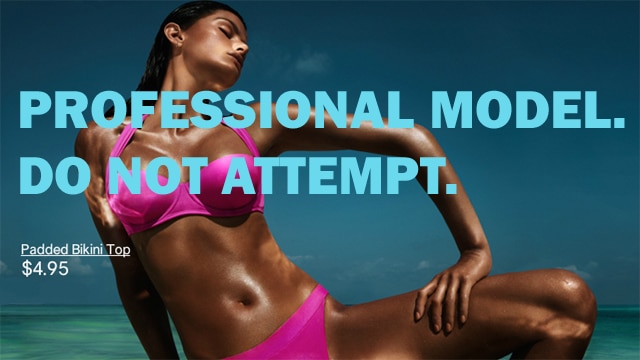 Being politically correct goes a long way these days…
H&M has come under fire for choosing to depict a deeply tanned model (Isabeli Fontana)  in the advertising of its latest chich swimwear collection. Apparently cancer groups weren't too pleased when they caught a glimpse of the retailer's campaign, which led to the following public apology (yep, being careful not to offend certain groups will certainly keep one on their toes)
"We are sorry if we have upset anyone with our latest swimwear campaign. It was not our intention to show off a specific ideal or to encourage dangerous behaviour, but was instead to show off our latest summer collection," the company said in an email sent to AFP.
"We have taken note of the views and will continue to discuss this internally ahead of future campaigns."
For its part the Swedish Cancer society which brought the claim of no fair play to H&M's attention had this to say:
"The clothing giant is creating, not least among young people, a beauty ideal that is deadly," the cancer society wrote in an opinion piece in Sweden's paper of reference Dagens Nyheter Thursday.
"Every year, more people die in Sweden of (skin cancer) than in traffic accidents, and the main cause is too much sunning," the group said.
"Regardless of how the H&M model got her tan, through sunning or a computer programme, the effect is the same: H&M tells us we should be very tan on the beach," it said.
"It is sad to write this, but H&M will through its latest advertising campaign not only sell more bathing suits but also contribute to more people dying from skin cancer."
Never mind, caught this time, a quick turn around of face and a bit of extra publicity for that chic new swimwear line too. But then again since when did a retailer become responsible for the tanning choices of its consumers? In that case we ought to write Hollywood a letter and beseech them to stop making films with people pointing guns at each other lest people come up with the crazy idea of walking down the boulevard with aimed pistons.
Isn't it time you bought a gun and started strutting the streets in your new H&M bikini threatening mankind ladies?