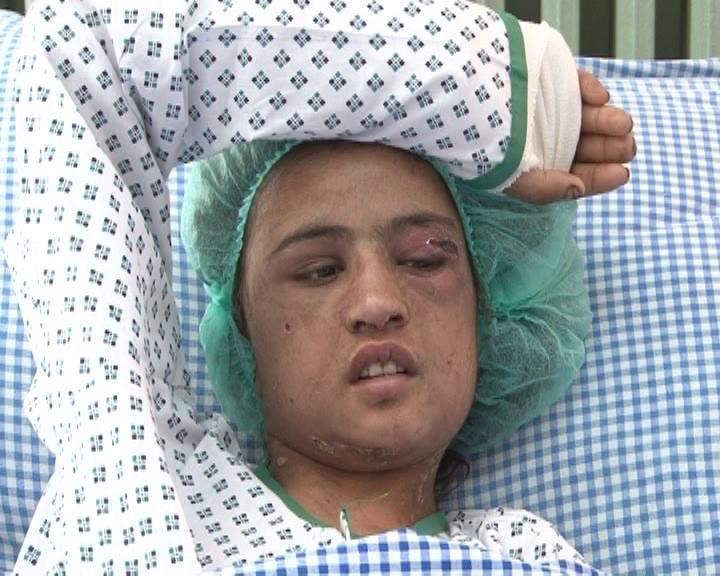 The in laws of child bride Sahar Gul have been sentenced to "10 years in prison for torture, abuse and human rights violations, a judge said Saturday," reported the Huffington Post today.
The young girl was kept prisoner in the basement of her husband's family in Kabul, Afghanistan for six months after her arranged marriage took place, during which they broke her fingers, ripped out her finger nails, and burned her with hot irons in an attempt to force her into prostitution.
Judge Sibghatullah Razi sentenced the tortured child's mother-in-law, father-in-law and sister in-law to 10 years for the vile acts, which "set off a storm of international condemnation when it came to light in late December."
Sahar's husband and brother-in-law were also found guilty but fled at the public release of the case and so will be sentenced upon their capture.
The Huffington Postfurther reported: "[Sahar] Gul was present for the decision, telling the court that she wanted her in-laws 'severely punished' for what they had put her through, Razi said. She has filed an appeal for a longer sentence with the help of the Women for Afghan Women, a group that works for women's rights in the country and has been caring for the teenager since her rescue."
Huma Safi, program manager, expressed her disappointment with the 10-year sentencing stating, "Of course we are not happy with the court's decision."
She also commented on the courage of young Sahar by saying, "She was very brave. When she was brought to us after her rescue, she was unable to speak. But this week she was able to get up and speak in front of an entire courtroom asking for her rights."
Sahar then receives praise from her rescuer: "These are all positive signs and of course we are very proud of her."
Sahar's case has called attention to "strengthen women's rights and end underage marriage. The legal marriage age in Afghanistan is 16, but the United Nations agency UN Women estimates that half of all girls are forced to marry under age 15."
The child bride was discovered to have been the victim of extreme abuse after an uncle made a report to authorities.
What is horrifying is that the 15-year-old endured six hell-ridden months before her rescue and would have probably been tortured for much longer had that uncle not stepped forward. This sheds light on the ability of young brides to be kept hidden and abused, all for the monetary benefit of their captors.
Photos of tormented Sahar spoke more than words ever could. Her tiny bruised face and body can offer a glimpse into the reality of arranged marriages, that of which offers child brides in exchange for debt amendments or to pay off the crimes of relatives.
Then there's this too:
dailytimes.co.pk: According to figures by British charity organisation Oxfam, 87 percent of Afghan women report having experienced physical, sexual or psychological violence or forced marriage. The Afghan Independent Human Rights Commission logged 1,026 cases of violence against women in the second quarter of 2011 compared with 2,700 cases for the whole of 2010.
So much for women's rights in this region which has seen in a continual abatement of women's rights. Maybe it is a man's world after all…
What's it going to take for the region to change its attitude towards women…?