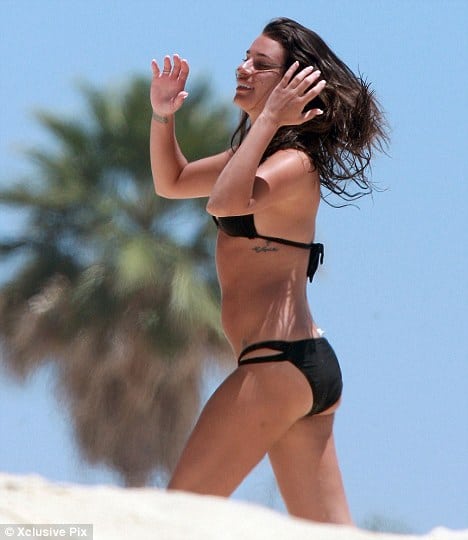 Lea Michele wanted to try out her new bikini's and get some sun. And did she ever…
Lea Michele is a preferred hawt bixch. Slummin' it at the playground of the rich and fabulous, Cabo San Lucas, Mexico. You better work it bixch…
In a further testament that perhaps one's rise up the totem pole isn't necessarily necessitated by one's talents in front of the camera but outside of the camera come the latest exploits of Glee actress, Lea Michelle who packed herself and her latest love interest, Cory Monteith (should we known him or is time for Lea to upgrade?) off to Mexico's Pacific coast for some much needed media whore exposure rest and relaxation….
dailymail.co.uk: The 25-year-old star looked happy and relaxed as she soaked up the sunshine on the white sands.
Lea and Cory were also seen making the most of their time off from the Glee set as they read books and magazines on loungers by the swimming pool.
Lea yesterday took to her Twitter page to rave about the break, tweeting: 'Back from another great weekend getaway! Got lots of sun and rest:)'
She later added: 'Hope everyone had a great Easter for those who celebrate:) If not then today is a great excuse to eat tons of egged shaped chocolates:)'
Kids, tell me like me you are not salivating and wishing you were a dollop of honey fluff idly floating between these two's frothy daffodil breath as the morning sun gently fizzled as the bedroom curtains came undone?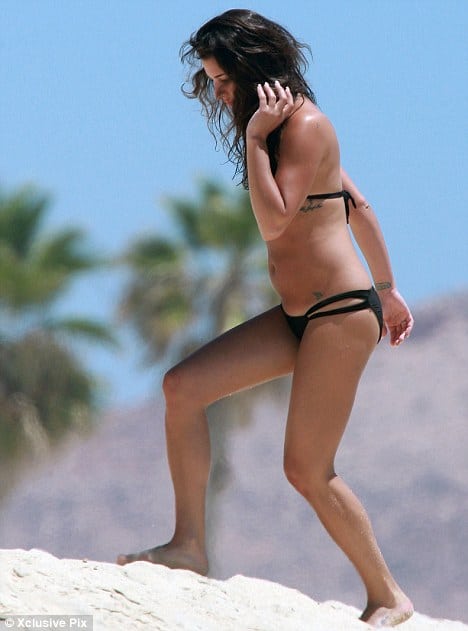 Cory and Lea were also seen beaming with delight as they made their way through the airport upon their arrival back in Los Angeles.
Lea grinned from ear to ear as she headed home, showing off her tan in a white T-shirt, which she paired with a red cardigan and sandals.
Meanwhile, Cory looked equally enamoured as he smiled for waiting photographers, going for a casual look in brown trousers, flip flops and a checked shirt with a grey T-shirt underneath.
Kids, isn't it time you staged your existence and slowly gestating suntan in front of a feverous pack of paparazzi only too happy to see you reach for another squirt of the Sunblock 'MW(media whore) + 40?'
If only you could become a movie star too, unless of course you already are one…