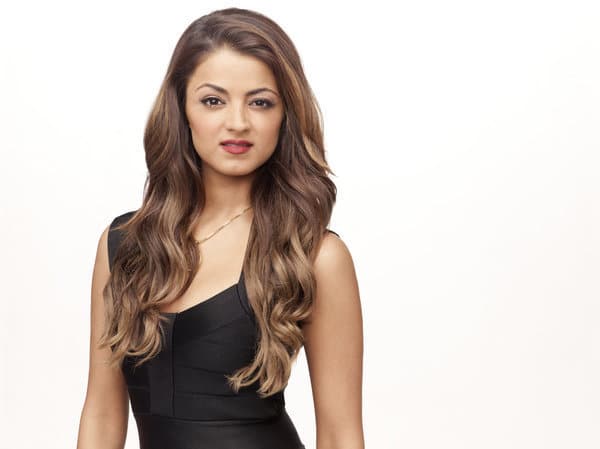 Two bit hoe saying of Sunday night: 'Someone can be disrespectful to me in my house, that's one thing. If you come to my parents and disrespect them in front of me, then we have a problem.'
And thus once again began the adventures of 'I am an Iranian princess who loves hordes of money but has never once been compromised by the existence of vast sums of it, because I have never actually had to exert myself to make it except apply a healthy slather of facial moisturizer  to make my facial features shine against the fickle Los Angeles landscape…'
In last night's episode  on Bravo's Shah of Sunset, our collective heroine and perennial gold digger GG (Golnesa Gharachedaghi) had to reckon with her best friend, poseur and general ingrate MJ (Mercedes Javid) arriving up to 3 hours late for her parent's 40th wedding anniversary. Remembering that she GG was an enlightened soul who never resorted to bixch slaps or broken vases unlike other hysterical reality princess' GG had to keep her anger in check and figure a more calculating way to let her bixch friend MJ have it.
But MJ was never going to have any of GG's sour pouting.
Reiterated the csar of moral consciousness: 'Even though GG greeted me warmly I still could feel the wrath of GG coming my way.'
Of course it never really comes because these two bixches are fighting so hard to appear proper and civilized when a good reality show setting would  of have demanded that these two best bixches by now had beat the living crap out of each other and hopefully made up with each other before the next commercial break.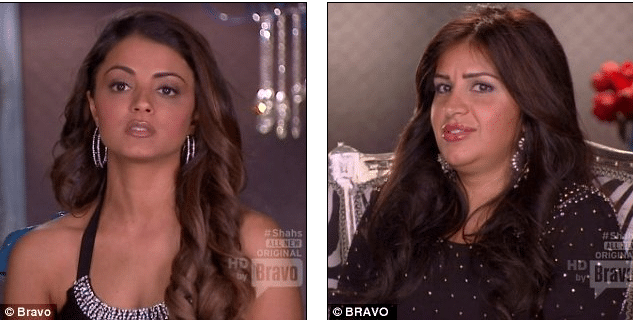 Instead we get to hear MJ snip away about GG never being able to understand what  it was like having to exist as a working stiff with real life obligations outside of sipping champagne and flirting with out of work actor pool boys because unlike her she didn't have to work and instead lived off the good graces of her daddy's check book.
Added MJ smugly: 'Work takes priority over parties.'
Indeed MJ, there's nothing like expressing moral imperative to a self entitled Iranian princess to get her to understand the folly of her ways. Of course a good long stick with rivets of nails affixed to the end of it aimed in the general direction of GG might arguably also do the trick as well….
Nevertheless as life would have it, GG was in for a rude shock when her sugar daddy pulled his princess aside and attempted to explain to her that she could not continue living her life on her looks alone and the graces of his checking account. Perhaps mused the old man it was time for his sweet gold digger child to accept responsibility for her ways.
The choices were obvious explained daddy.
Either GG had to rein her spending in or simply find a husband who could share in the burden called, 'My name is GG and it is my mission statement to sell my ass and titties to any man who can give me a healthy shopping allowance at Bergdorf Goodman and not once ever look at me strangely should I one day return from a department store with a pair of $1700 sunglasses which had to be bought.'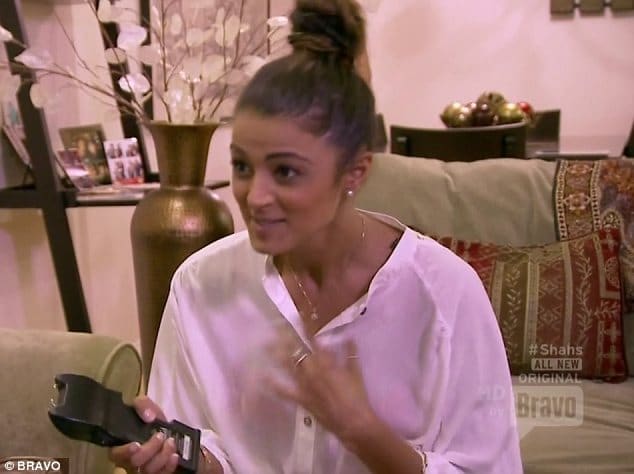 From there it was now time to figure out a way how to lose weight. Which of course inspired the brilliant idea of making time for a colonoscopist courtesy of MJ's co real estate worker Reza, who was about to treat MJ and himself to a new life affirming experience.
Said MJ to the camera boy: 'I'm hoping I'll lose like six pounds,' to which Reza, the gay diva of consciousness and perennial bad luck of finding a hawt  bixch to love his hairy ass cattily responded: 'I'm hoping you'll lose seven.'
Reflects Reza after his colonics experience: 'I got nothing out of this experience. Nothing. I didn't even lose weight. I lost four hours of my life, that's all.'
Which in essence is what one could say in a nutshell about the hollow show itself. Nevertheless one is inclined once in a while to order a Big Mac to firmly understand why it is that they don't ever eat it in the first place….
Shahs Of Sunset's Golnesa 'GG' Gharachedaghi does not approve of ugly people …