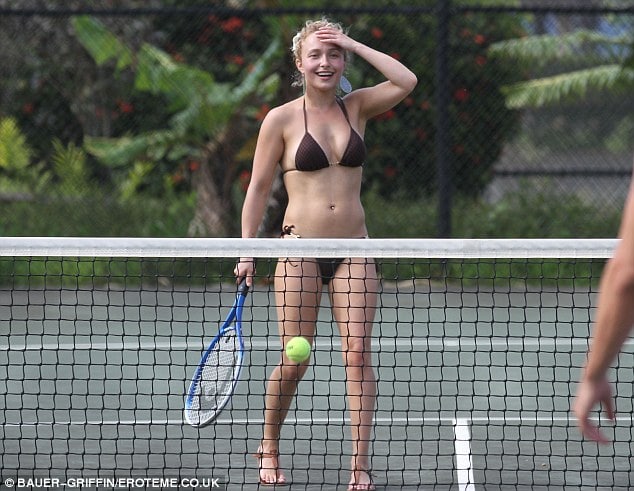 Does anyone fancy a game of tennis with Hayden Panettiere whilst she trollops in her slinky bikini?
Kids, it's time to introduce to you the latest entrant of I am an aspiring ingenue who when pressed will gladly trollop for the cameras in my most slinkiest bikini in the hopes I leave a lasting impression on your tender soul. But this morning's femme fatale, 22 year old Hayden Panettiere, had a mystery companion. What mystery companion…?
dailymail.co.uk: The 22-year-old actress found herself partaking in a slew of athletic activities this week while on holiday in Hawaii. 
However, a love of sport is par for the course (so to speak) when dating a pro athlete. The former Heroes star has been dating NFL star Scotty McKnight for nearly a year.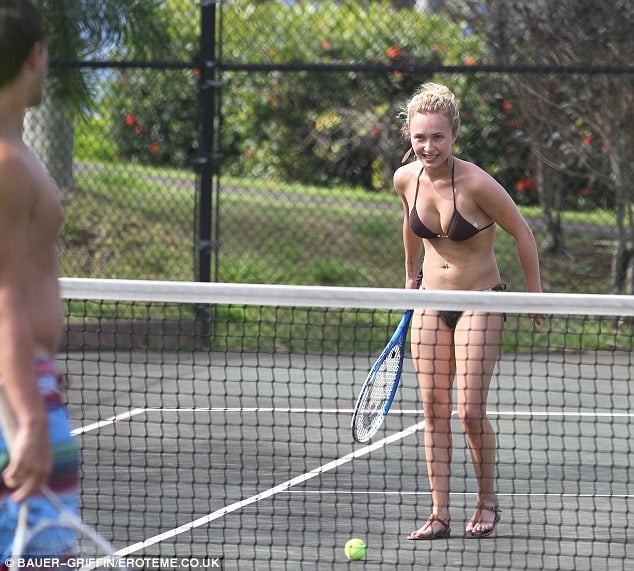 Pro athlete? Kids are you reaching for your protein bar at this very moment? Really who hasn't dated a serial athlete before? There's nothing like the joy of getting up at 4.45 in the morning and going for a brisk 28 mile run around the park. Or as in Hayden's case a throbbing retinue round of rigid tennis practice followed by a 19 hour backpacking trek in the mountains of Hawaii before de toxing with a 14 hour game of hoops with her love, Scotty 'I will make you get abs and toned muscles if it kills me or you' McKnight.
So how exactly did chipper Hayden fare with her morning's extended game of tennis?
The petite starlet played her games with flair, given that she did both while wearing a tiny chocolate brown Melissa Odabash bikini.
Kids, let me confess when I play tennis with the chipmunks I too like to put something on with a bit of flair. As long as it's see through and sliding abruptly up  and down my taught love handle body (yes, like Hayden, I'm a show off too) I'm good to go all day long, and of course the chipmunks, Vladimir and Fyodor love it. I even got them matching slinky athlete shirts for Xmas. (Mauve and papaya color of course).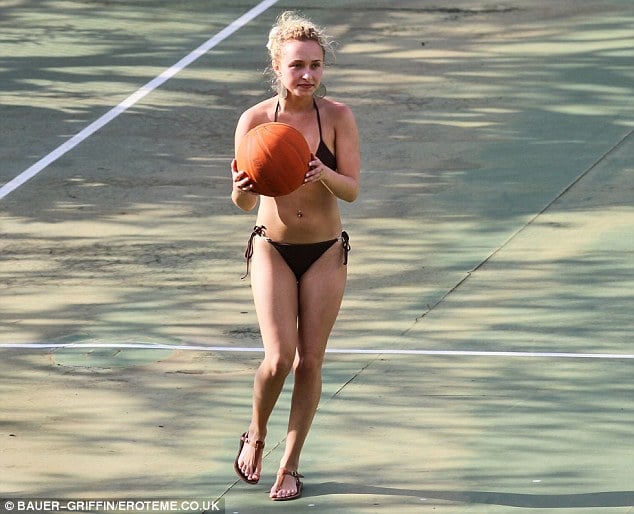 While the wide receiver dwarfed the diminutive starlet, she refused to let him beat her at either game.
In fact, an insider said that she got super competitive with McKnight. 
A source at the Ritz-Carlton told Us Weekly: 'She's so competitive. She wanted to beat Scotty on every stroke.
Oh geez- I'm gushing from the jowls.
But it's true kids. Everytime I play tug a war with the chipmunks we get real competitive. Sometimes they smash the odd bottle of Grand Cuvee Krug over my head whilst sometimes I smash the odd bottle of Veuve Clicquot over the heads. As you can imagine our playful games can leave us quite giddy and a trifle bloody exhausted. But not Hayden and her hawt bixch, once they finish one game, they're off to the next pro athlete tournament. Shall we?
'If she missed, she was upset with herself, but then would laugh. And Scotty would run over to the net and kiss her.' 
The 24-year-old athlete couldn't resist kissing his lady love as much as possible.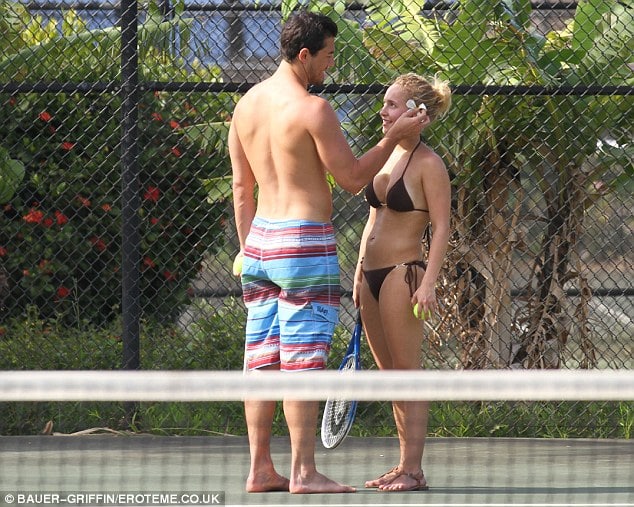 It's true kids. When the chipmunks miss wacking me affectionately over the head with  a bottle of the good shit I just laugh it off before reaching for a sling shot and kapowing them bixches with a stack of empty wet plastic cokey baggies, It makes them giggle as they start fiercely licking the inside of the nearly empty plastic baggies. But then again everyone has their own unique way of bonding…
Kids, isn't it time you fell in love with a pro athlete  too?