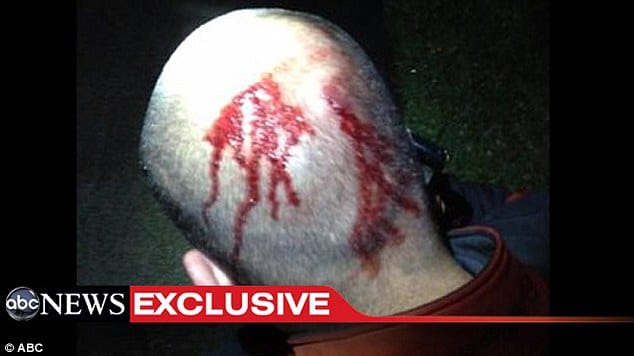 The stakes were raised today as images obtained in the George Zimmerman trial show the defendant suffering garish abrasions to his head which may counter the argument that indeed he was only defending himself.
In an interim turnabout for the fortunes of George Zimmerman, the suspect held in custody for the murder of Trayvon Martin on February 26th, the court allowed his motion to set bail to the tune of $150 000. Initially prosecutors had sought a million dollar bail but the Circuit Judge Kenneth Lester Jr allowed instead the lower sum as long as various stipulations were met.
Some of the stipulations that the court has demanded included: he will be forced to wear a GPS monitor at all times, He cannot have any firearms, drink alcohol or use drugs and must observe a curfew.
Mr Zimmerman's lawyer Mark O'Mara has also asked that his client, who is being held on second degree murder charges be also allowed to live in another state whilst awaiting for trial to begin given the concerns he holds for his client's physical life as repeated threats have been made. It is also understood that Mr Zimmerman would be released at some future date.
Today's hearing came whilst ABC released a graphic photo of Mr Zimmerman's head, the night of the murder which may add plausability to his story that his head was being repeatedly bashed across the sidewalk tempering Mr Zimmerman to pull out a firearm not knowing whether Trayvon Martin himself had one on his own persons.
Despite the release of the above photo comes the following admission at today's hearing from state investigators who have given pause to the assertion that George Zimmerman was merely acting in self defense:
dailymail: The hearing provided a few glimpses into the evidence amassed by investigators, and in some cases evidence they do not have.
Dale Gilbreath, an investigator for the state attorney's office, testified that he does not know whether Martin or Zimmerman threw the first punch and that there is no evidence to disprove Zimmerman's contention that he was walking back to his vehicle when confronted by Martin.
Mr Gilbreath also said evidence does not back up parts of Zimmerman's story, such as his claim that Martin was slamming his head against a sidewalk just before he pulled out his handgun and shot the teenager.
'That is not consistent with the evidence we found,' said Gilbreath, who did not provide details.
What was also disclosed today was that Mr Zimmerman on the evening of the tussle that led to Trayvon Martin's death hadn't received stitches nor was he sent to the hospital, this despite assertion's from the defendant's father that his son was bleeding from the nose and had a swollen lip, which may indeed only count for superficial injuries and the notion that the injuries incurred by Mr Zimmerman may not have been as serious as he has alleged. Nevertheless with respect to the law, 'stand your ground,' the Florida law stipulates that an individual may use deadly force not because they believe their injuries are superficial but because they believe imminent loss of life or serious injury, which at present is what Mr Zimmerman has argued all along before community pressure led to his recent release and him being arraigned on second degree murder charges despite being set free on the night of the death of Trayvon Martin.
At this stage one can only wonder what will happen to Mr Zimmerman, whether he will be released into another state, accosted by those that have asserted to kill him if he is ever set free or whether the well timed releasing of images of his bloody head will give pause to the idea that he was merely acting in self defense, but then again one could perhaps argue that Trayvon Martin was only acting in self defense when he came across the unknown figure of Mr Zimmerman who in the youth's mind may have been stalking him as he returned to his father's house. Of question will be why didn't Mr Zimmerman heed dispatcher's pleas to remain in his car whilst police were being sent on their way to address Mr Zimmerman's concerns that Trayvon Martin was an intruder who in his mind was up to no good….
George Zimmerman: Will he get a fair trial?
George Zimmerman trial: May now have his case dropped.
George Zimmerman plans to plead not guilty. But is he?
George Zimmerman is to now stand trial for the murder of Trayvon Martin. Surrenders himself to authorities.