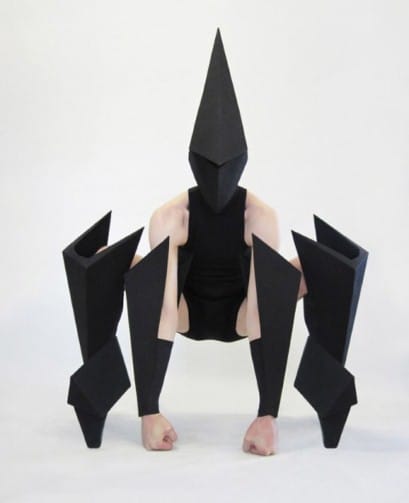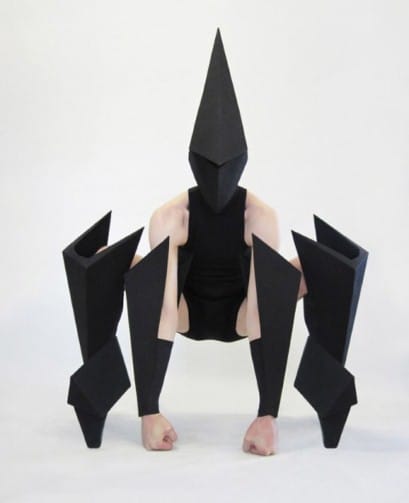 English fashion designer Gareth Pugh has teamed up with contemporary modern dance choreographer Wayne McGrego as costume designer for Royal Opera House's new ballet Carbon Life, which score was written by Mark Ronson.
By designing for this show, Pugh has added an edge to point shoes that will certainly intrigue all viewers, while telling the story of love and its various embodiments.
During the performance the designer, wanting to portray evolution, has the dancers begin naked and then evolve into a futuristic version of themselves. The sneak peek photo depicts sharp structured lines that leave the dancer looking like a dark and twisted, shield-donning spider of the future.
Pugh told the telegraph:
"Wayne's […] only thing was to say that he never works with point shoes and tutus. He really wanted to see what my version of those things would be." 
The designer also described how the costumes depicted the transformation of the human spirit stating:
"From the naivety of when they're born, through their relationships, to what they become. I wanted [to convey] that in the costumes, so everybody starts naked, then evolves."
The designer is a former dancer himself and adds that although these point shoes seem impossible to dance in, they serve their purpose in both aesthetic and functionality.
He assures that "the point shoe may look restrictive, but it's made in such a way the foot can do everything that it needs to do."
The performance will go on from April 5th to April 23rd, and Royal Opera House conveniently warns ticket buyers that Carbon Life contains strong language.
With the mix of a modern choreographer, a cutting edge designer and a visionary musician/DJ/music producer, this is not your grandmother's ballet. Not your grandmother's ballet indeed.
'Carbon Life' opens April 5, tickets from £3; roh.org.uk