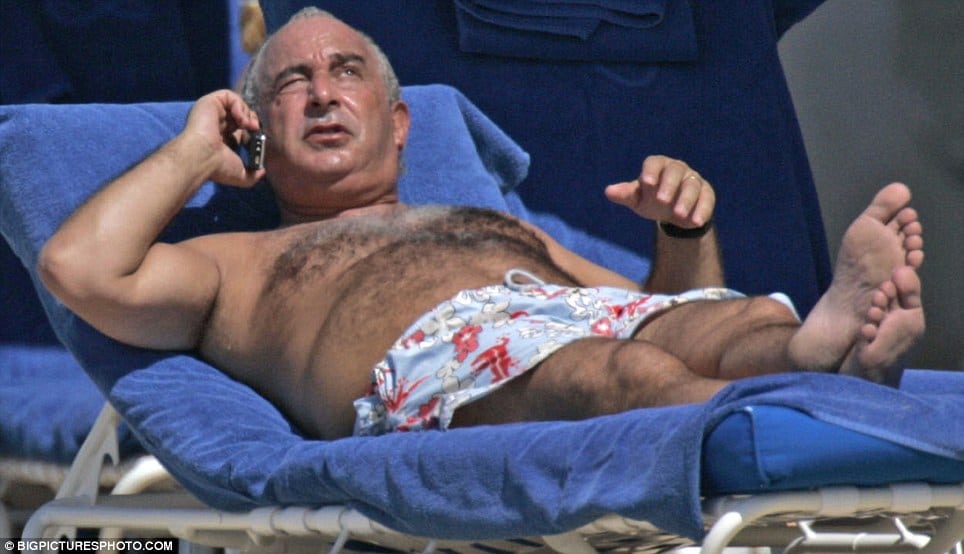 If I can seduce a bunch of A list celebrities with all the best amenities my hard earned dollars can curry will I end up being the toast of one Mexican resort beach town?
Kids, it's time to wish zillionaire Sir Philip Green a happy 60th. And if you haven't already, not to mind- just get in the back of the line amongst A list celebrities that his highness had the pleasure of flying down to a Mexican resort so all of his rent a crowd A list friends could gloat in comfort and style. And how them bixches partied too…
dailymail.co.uk: Every element was luxurious: Even the burgers served as a late night snack on Friday were made with imported Japanese Kobe beef at a cost of £50 each.
The beaches were patrolled by armed guards, some on jetskis, to keep out riff-raff.
And the four-day event, at an estimated cost of more than £6million, was all very much about the birthday boy. For who else but Sir Philip – whose retail empire includes Topshop and Dorothy Perkins – would have the guts to ask his celebrity guests to wear clothes bearing the branding PG60 (his initials and birthday) all weekend?
Kids, I'm curious, who amongst you made it to Sir Philip's must go to birthday party? I have repeatedly checked my email inbox and as of yet not a single invitation ever arrived. Then again let's be honest, I am just a despised media hack bottom feeder not worthy of Sir Philip's stellar company. Which reminds me how many of Sir Philip's employees who toil for the oligarch actually got an invite? Was the local janitor there hobnobbing with Rihanna and Leonardo Di Caprio? Surely that would have made Leo's and Rihanna's day?
"Yes Leo you are my favorite hawt bixch. Yes I totally approve of all those Victoria Secrets model you tend to date. Yes Rihanna, I don't mind you getting back together with a domestic abuser, whatever makes you feeling better. What? Tweet a picture of us lap dancing in each others arms? Well, only if you insist…"

His 'brand' was everywhere – on beach towels, bathrobes, even the bespoke Hawaiian shirts to be worn to a beach barbecue.
Everyone had to wear the logo, including Simon Cowell, Ronnie Wood, Leonardo DiCaprio, actress Kate Hudson, Kate Moss and Naomi Campbell. Only the resort's tame turtles seem to have escaped.
Oh dear kids. I'm frothing from my eyeballs. I've finally decided when I finally reach puberty or a psychotic evaluation deeming me fit for self esteem to finally aspire in becoming rich or at least a hanger on to the rich.
Having hired all of the Rosewood Mayakoba resort for four days, Sir Phil brought in 155 staff from London to make sure everything ran perfectly. He also had a nightclub specially erected in the honour of Chloe, who turned 21 this month.
Performers at the festivities included Robbie Williams and Stevie Wonder. On the last day there was a 'simple beach barbecue' – with music from The Beach Boys.
Oh dear, let's at least hope that Sir Philip didn't burn his skin hobnobbing amongst his rent a glam crowd, cause that would of have caused a scare I'm sure. Never mind, there's always Sir Philip's 70th birthday where ever that will end up being. Hopefully that will give me enough time to become as glamorous and as wonderful as all the other preferred guests…but then again it must be nice being a pampered servant surely…?