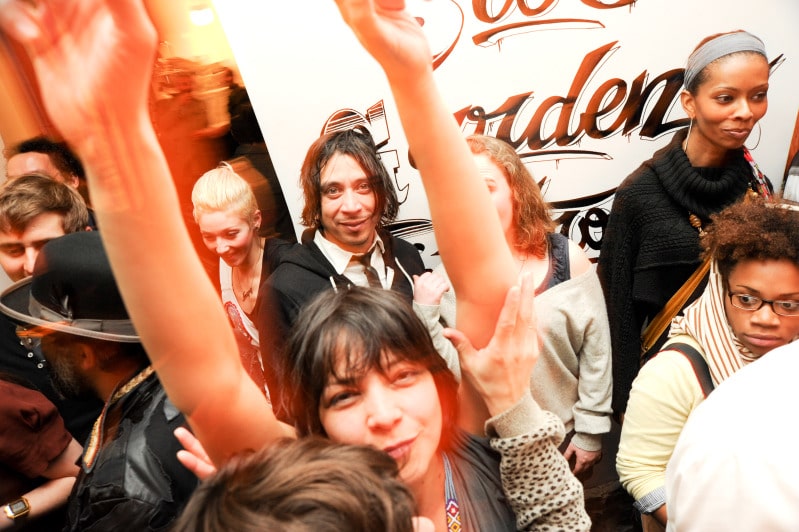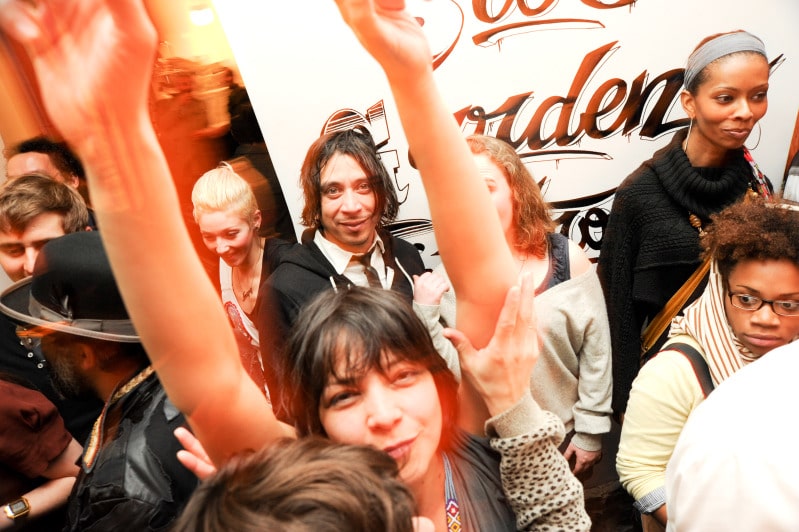 Wednesday night saw one of the most ostentatious and garrulous display of panache and good cheer that this author has been privy to in a while. Why? Cause in the cauldron of Boerum Hill, Brooklyn (yes I kid you Manhattan snobs not!) came the opening of what can only be described as one of the most new 'it' dining canteens that the city has to offer: Maimonde of Brooklyn. And what fun it was and really tre delicious…
As hosted by founder Cyril Aouizerate, the legendary chef Alain Senderens and executive chef Neal Haden, revelers and a smattering of the jet set descended at the chic eatery (which with the upcoming spring hosts an expansive outdoor terrace terrain resembling that of a lazy plaza somewhere in the south of France) to pay homage to the new cuisine at hand. What was described on the invite as 'avant-garde vegetarian food for carnivores.'
Dishes include dried fruit saucissons, vegan chicken nuggets, and open-faced sandwiches that are topped with wholesome ingredients, which are called MOBs. M.O.B's design is an homage to 90s hip-hop culture, Brooklyn, and the healthy-living beliefs of the famous Jewish philosopher Maimonides. The arches of the Brooklyn Bridge lend their shape to the doorways and the MOB sandwiches, the walls have poetry by Brooklyn poets, and displays of paraphernalia bringing Brooklyn's legends to life (Notorious B.I.G. and Spike Lee). The tables are communal style and each vegetable and fruit used on the menu has a sign on the wall, tombstone style. The corn soup is made with popcorn, to remember the time when corn was grown in Boerum Hill.
The opening celebration featured musical performances from the legendary Afrika Bambaataa and prolific Brooklyn-based MC, DJ, and Beatboxer Rabbi Darkside. It was not unusual to see guests clambering for seconds and thirds (yes, I'll admit it) of the splendid food at hand and to then have them dancing to the bombastic beats of our dj maestro.
If there were a few drops of sangria spilt on jacket sleeves or sheer dresses, never mind, it was just the dj thumping it out to the uproarious delight of guests who danced, cajoled and made love to the food and gregarious company at hand.
Guests included: DJ Kevlar, Grey Matter, and Ill Spokinn, converging with culinary luminaries such as Chef Barry Wine and Chef Eberhard Mueller.  Other guests included comedian Louis C.K., Andrew Andrew, Ash Carter, Tim Goossens, Crazy Legs, and uber socialite Diego Marroquin. Plus a whole number of eccentric and wonderful leggy types who always bring a cheer to hungry eyes. Indeed…
This one is a winner kids. Looking forward to seeing you all there soon.
Located at 525 Atlantic Avenue (www.mob-usa.com)