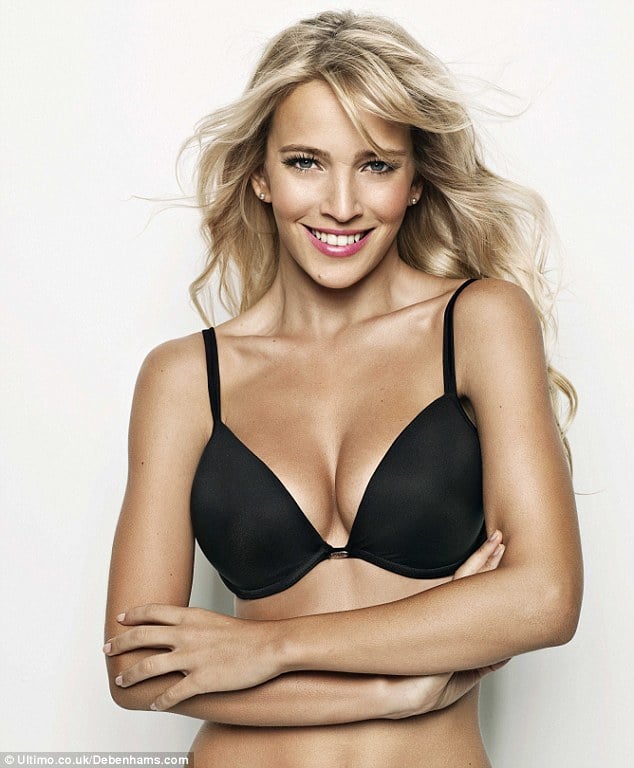 Ladies, it's now officially time to reach for a blunt screwdriver and poke your eyes out in fits of jealousy as you cast seething eyes over the Argentinian actress, Luisana Lopilato's new campaign for Ultimo, a new push up bra.
Offers the dailymail: The bra, the latest in a line of successful launches by Michelle Mone's firm Ultimo, has already attracted more than 5,000 pre-orders from eager customers and has been tipped as the next big thing by consumer watchdogs as it goes on sale across the High Street and online today.
Let's face it ladies. Better you than one of your female competitors garnering all the attention of all those spring male passerbys. And who of course could Ultimo think of to model their new contraption…?
The One has been designed, say Ultimo, for women who have been searching for the perfect everyday bra that gives a 'natural-looking, rounded cleavage' – but it's affordable too.
The bra, which was two years in the invention and design process with teams in both UK and Hong Kong devoted to it, claims to eradicate the dreaded 'double-boob' effect – when breasts spill out from the top of the bra cups, giving an unsightly effect through clothing.
This is achieved, says Ultimo founder Michelle Mone OBE, using The One's 'secret weapon' – an innovative satin sling inside the cup which holds breasts in place to eliminate double boob, coupled with super-lightweight foam cups that lift and project the breasts.
Kids, if I had breasts I'd be racing to cast my rack against these bunnies too. After all nothing says more to eternity and self respect than fully loaded breasts. Right? And don't get me started on erect nipples…
Offers Ultimo creator Michelle Mone OBE: 'The One by Ultimo is a perfect match for women of all shapes and sizes.
'Women want that natural, rounded, full-looking bust day to day but they shouldn't be expected to pay through the nose to achieve it. I believe The One by Ultimo is the best investment a woman will ever make.
'More than a million have already been sold and I challenge others to try it and see for themselves.'
'In my opinion no other everyday bra on the market can compete with The One by Ultimo as it gives incredible results at an unrivalled price.'
Michelle no need to oversell, rest assured as a male who is soon looking forward to watching all your new customers gallivant it on the streets, I can only thank you profusely. Of course if you could sneak me a silent viewing session with Luisana that might in all reasonable expectations lead to an extra bounce in my step too….
Ladies, isn't it time your man tore his eyeballs out this spring as you sashay in your new push up bra?