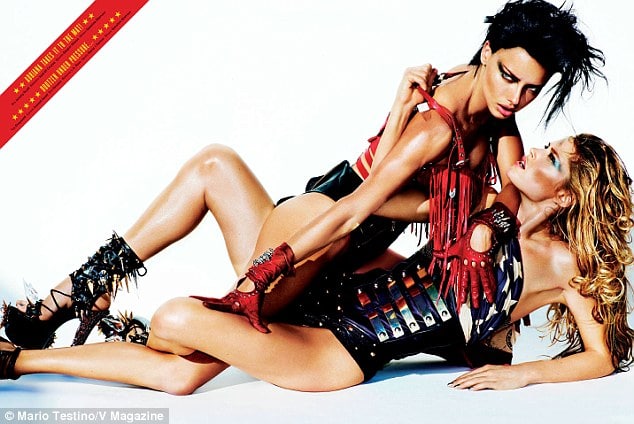 Courtesy of V magazine comes the latest prancing of supermodels your little heart has been begging to see. Which supermodels this time you wonder? Adriana Lima and Doutzen Kroes who amaze us with their lithe frames and perfect poses. What they are posing about is really irrelevant, but the hands on gritty display of faux fighting between these two girls rings as sincere as a limp handshake on a business meeting. But then again who really minds when you can spend your afternoon wet dreaming to the sight of something most of us will never be or ever bed.
As the dailymail reiterates the 12-page spread of the duelling models is part of V Magazine's 'sports issue' which features Jennifer Lopez on the cover in a crop top and boxing belt. Inside the singer continues the knockout theme with a photo shoot where in one shot, she wears nothing but boxing gloves.
Photography by Mario Testino. Whatever happened to the real grit back in the early 90's courtesy of some real editorial campaigns, notably Benetton and Dolce Gabbana. It would have been nice to see a bit of blood Mario to heighten the drama…
Careful not to go blind kids.