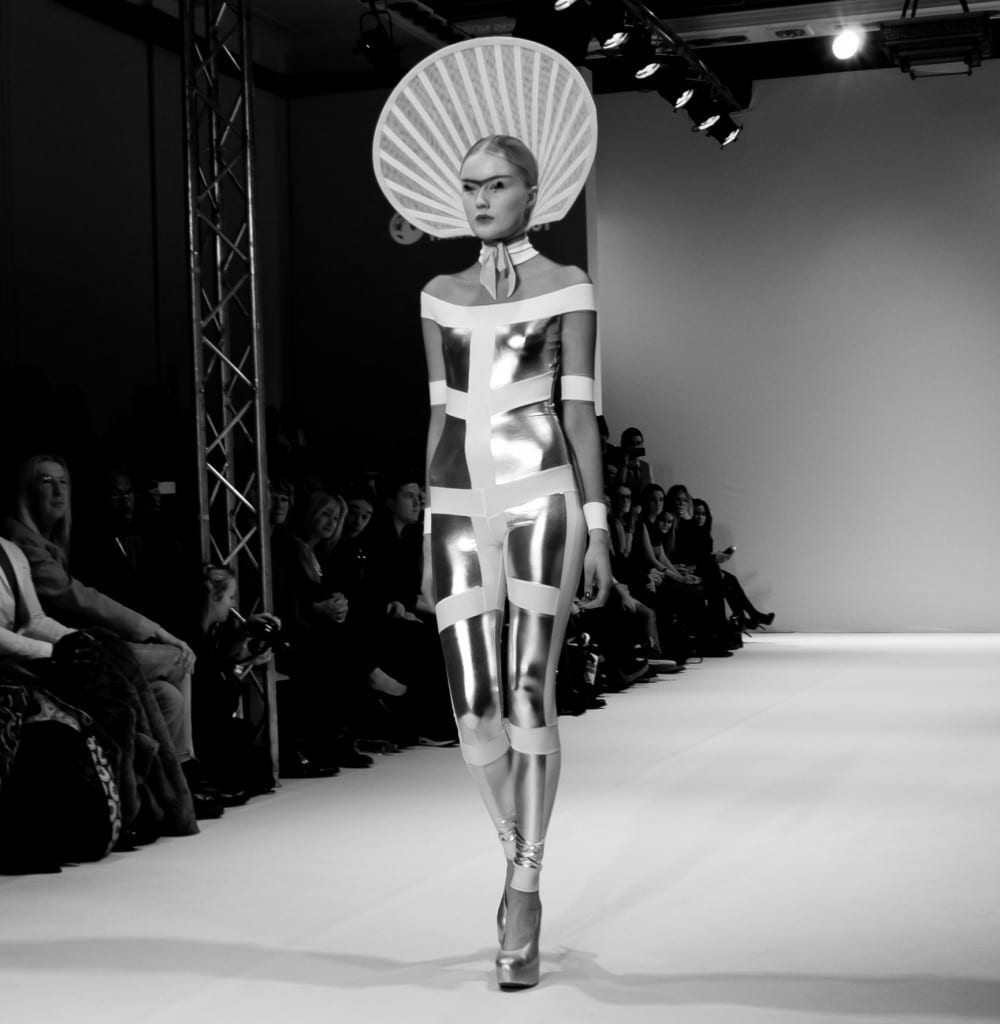 By the end of Pam Hogg's runway show Sunday evening, it was more than apparent that the iconic British designer's A/W 2012 collection was much more an exercise in fashion as art, than any concerted effort to interest buyers or please the fashion industry at-large.
While undoubtedly one of the highlights of London Fashion Week, the show began with as much drama outside as was awaiting guests inside.
With a queue of potential guests that easily numbered in the hundreds, it was immediately obvious that the hype surrounding Hogg's "off-schedule" show rivaled, if not exceeded, that of most of the major shows held thus far at the main site of LFW at Somerset house. Some were so desperate to gain entry that they even resorted to lying to PR personnel about their names– claiming to be editors of certain magazines–and to their embarrassment were quickly turned away by PR in a very public way. With the atmosphere growing more tense by the minute, the crowd stood in awe as yet another dramatic scene unfolded soon after, which involved screaming, shoving and smeared mascara.
Once inside the theatrics continued, but fortunately in a more productive way. Initially the sartorial splendor of Hogg's guests made it difficult to focus on the show. The front row was speckled with as many drag queens as it was celebrities, among them former supermodel Janice Dickinson, Duran Duran keyboardist Nick Rhodes and Kate Nash.
Celebrities could also be seen adoring the runway itself. 26-year-old actress Jaime Winstone strutted down the catwalk with some serious swag as she modeled one of Hogg's most striking looks: a red, silver, and black volumized skirt with matching roll-neck jumper and black PVC platforms. The look also included the signature accessory of Hogg's new collection, a piece which has been described by some as a space-age Elizabethan collar and others as a human-sized dog lampshade. (I personally would liken it to a streamlined, futuristic interpretation of a Victorian baby bonnet.)
It quickly became clear that "wearability" was not a primary concern for this collection, as lamé bodysuit after lamé bodysuit came down the catwalk. In fact, clothing in general seemed pretty much optional towards the end of the show, when models could be seen wearing little more than a few strategically placed red bows.
Refreshingly original and unaffected, the atmosphere was more like an art installation than a fashion show. In terms of references, imagine John Waters having a dream about Hogg's S/S 2012 collection, and David Lynch providing the surrealist soundtrack. (As it happens "Pinky's Dream", the opening song from David Lynch's debut album "Crazy Clown Time" was, in fact, played during the show.)
As Dan Stern's photo of Hogg at the conclusion of her show beautifully captures, by the end Hogg was as sure as her audience was that she had successfully executed her artistic vision.