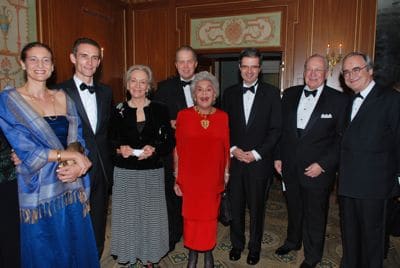 Last Thursday, October 20th, the American Friends of Blerancourt gathered at the posh Pierre Hotel to honor Baroness Philippine de Rothschild with the Anne Morgan Award of Excellence. The Anne Morgan Award was created to recognize women who challenge society, the arts and business industries.
Similarly to Anne Morgan, daughter of JP Morgan, Baroness Philippine de Rothschild also hails from a successful family and is the head of wine empire Chateau Mouton Rothschild, known for unique wine labels featuring leading artists. Phillippine de Rothschild was the first female to head up the wine company and successfully doubled sales and expanded the company.
The fete celebrating Baroness' achievements started with a cocktail party where Paul Goerg Premier Cru Brut Rose and Blanc de Blancs flowed freely as guests noshed on prawn skewers and pate while meeting and greeting before the formal sit down dinner. A photo opp it was with honored guests, French Ambassador, Francois Delattre, former American Ambassador to France Craig Stapleton, Consul Generale of France, Philippe Lalliot, members of the Rothschild family and many Morgans;  Miles and Housewife of NYC, Sonja Tremont Morgan filled up the room.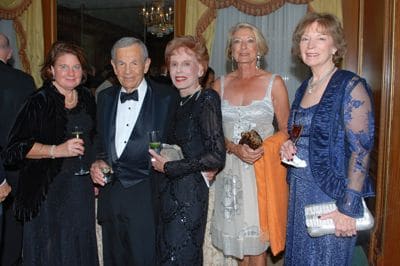 I lucked out with prime positioning at the self-proclaimed "kiddy table" smacked dab in between Ms. Sonja Morgan and her dear friend and Philanthropist, Bonnie Pfeifer Evans. Evans herself was a recent recipient of a 2011 Women Achievement Award, recognizing her exceptional background as a prominent model, philanthropist, real estate investor and healthy chocolate distributor. Evans was a sheer delight while Morgan was a refreshing wild card.
Let's not pretend we're not aware of the housewife's current financial woes, but hey, no judgement here. In fact kudos to Morgans ballsy business risks. Would we blink an eye if Trump filed another bankruptcy suit? No. In truth, Morgan is contagiously witty, unabashedly forward, fun and courageously bold. During the sit-down dinner, we discussed her daughter and current business ventures; a catering company and the soon-to-debut, Sonja Morgan toaster-oven, mitts and apron collection.
article and images continue next page.