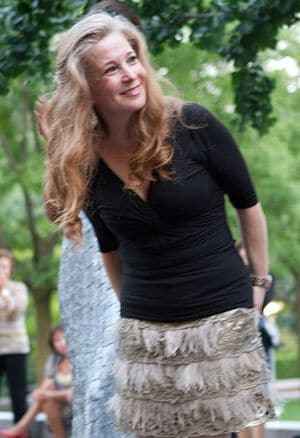 "An artist at heart, Randi Rahm is all about preserving moments in time."
—–Richard H. Lowe, from Richard Lowe Fashion Group –
Randi Rahm hosted a social media cocktail hour, at her fifth avenue design studio, this Friday. Now an entrepreneur, the classically trained conductor and concert pianist, who opened her studio in 1998, Randi Rahm began by making baby blankets. Blankets turned into baby clothes, which eventually generated significant demand, and led her to begin designing for A-List celebrities, socialites and corporate executives.
Every piece exhibited this evening ranged from $8,000 – $60 000 dollars, and had been worn by a celebrity. Beyonce, Vivica Fox, Vanessa Williams, Joan Rivers and Nicole Schwezinger are just among the few who have appeared publicly, in a hand-beaded masterpiece, which are worn once, preserved, and never worn again in the Rahm studio. Known for her quality adornments and silk or antique lace fabrics, Randi Rahm's studio extends over three floors— one for storage, another for production, the top one mostly
Embellished wildly, with real diamonds, precious stones and intricate beading, Randi Rahm has the client base that is 'willing' to pay top dollars. Consequently, she maintains her exclusivity by only selling her merchandise to Bergdorf Goodman. Ranging from $30,000- $35k there, her biggest clients are private ones: Princesses, people from all over the world, and brides looking to custom-make their gowns.
Known for "up-cycling" – or for taking vintage fabrics and custom-making masterpiece dresses—Randi Rahm is an evolved person—a perfectionist. She is one of the only ateliers of her kind left—in the United States. Hoping to one-day auction off the archived emblems, with a signed photograph of the celebrity who wore it, to benefit charity– Randi Rahm has a very 'old world' sort of style.
"She is a true artist, in every sense of the word! " notes Ashley Berg—house overseer and beauty for nearly six years now. She explained to me how Rahm's most recent show took place at the Museum of Natural History, during which 300 attendees gathered for a dinner—the proceeds of which would go to benefit cancer research. "She has over 600 gowns here, worn once and now put into rooms," she explained while emphasizing the authenticity of all the designers in-house and 'hand-made' trophies.