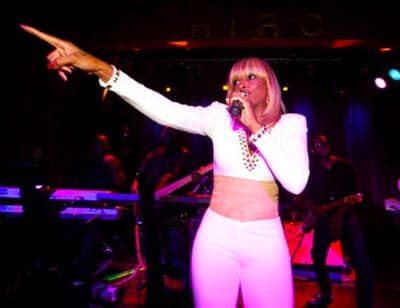 Paper Magazine hosted their 7th Annual Nightlife awards, presented by Hennessy this past week at Hiro Ballroom. Hosted by the lovely Wendy Williams, who notes: "I've always had an affection for the nightlife. Drinking a cold drink somewhere dark, where with something short and tight on," winners were chosen based on their ability to live up to Williams' concept of nocturnal debauchery.
'Best New Party' went to Le Bain; 'Best Museum' went to PS1 and 'Best Lounge' went to Bedlam. "Ironic, because we got kicked out of the Nightlife Organization in 1997!" Noted the PS1 award recipients. "Come to 40 avenue C y'all! Bedlam is best on Thursdays, so come out!"
Hotel with the 'Best Nightlife Scene' went to the place that offers the best nightlife plus a great place to sleep: The Standard. The delightful LCD Soundsystem's Nancy Whang won 'Best DJ': "I may have been forced into early retirement—but thanks to Paper Magazine—there is life!" She cried.
The 'Best Gay Night' award went to Clubber Down Disco at the Cheslea Hotel. The recipient, resembling Lady Gaga in a variety of ways noted: "Sorry to disappoint you, but I am a women!" The 'Restaurant with the Best Nightlife Scene' went to Miss Lily's, the recipient for which thanked everybody for coming out, while 'Best Nightlife Accessory,' recognizing a crew of stylists and designers went to Nicola Formichetti. Unable to make the ceremony, a video of him thanking Paper Magazine was disclosed: "I'm sorry I couldn't be there, but I need to prepare for a show tomorrow!" He noted.
Joaquin Simo from Death + Company won 'Best Bartender,' an award which was presented by a 'nightlife legend'—who seemed more interested in promoting his book than in considering the nominees. I rooted for Dushan Zaric of Employees Only, who will unfortunately have to wait until next year—to win his award.
Westway won 'Best New Club,' while Paper Magazine's co-founder David Hershkovitz presented the 'Hall of Fame' award to Don Hill, 'a super generous recipient' who recently passed away. He was recognized not with an actual trophy, but with peaking decimals of 'noise!'
Applause preceded a diatribe of 'Paper News', during which time the 'Best Promoter' award went to the gorgeous Fernando Tormena. 'Best Nightlife Tweeter,' went to the humorous Gayletter while Thursday won 'Best Night Out!' "I can't wait to see what Thursday looks like," David said—and I personally couldn't stop laughing, after that comment.
'Best Club Song' went to "Barbra Streisand", by Duck Sauce—'Best Nightlife Photographer,' went to Kirill Was Here and 'Best Door Person' went to Ian Bradley, of Le Bain. All in all, Le Bain won the most awards of the evening.
Mary J Blige followed up the sequence of People's Choice Awards with four delicious songs-one of which was sung in the manner of U2's infamous "One".