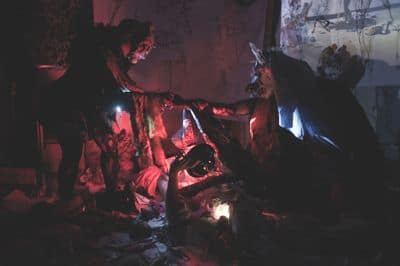 On one recent Friday night, Michael Alan's Living Installation did the unthinkable—performed two completely different shows with different music on each side of ABC No Rio.  Not only did the two shows—one a brightly-lit Wedding and the other, a dark Vampire Circus—not become a cacophonous hot mess, but they blended and created a poetic harmony in the legendary punk-art venue.  If you missed it, then get yourself to the next Living Installation because after watching a bride and groom become one with glue, paint, tape and balloons resembling a decadent 18th century French masquerade, its clear that this crazy celebration of art-making is going to quickly rock the now boring art world.
Not a play, a performance, a show or a hippie happening, Michael Alan's Living Installation is an art piece where New York-born artist Michael Alan, as the director/ringmaster, turns a group of often nude performers into living art objects, using paint, spray-paint, glue, baby powder, dirt, flowers and every other material he can get his hands on. Looking at a colorful drawing such as DJ Storm (2011), Alan's drawings are clearly tied to the creation and the completion of the Living Installation.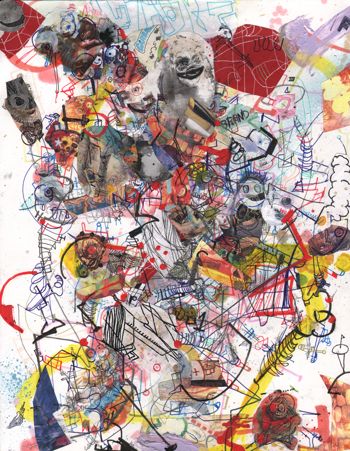 For six hours, this Living Installation, entitled "The Wedding/Vampire Circus" presented a balance of light and dark imagery in front of a wide range of audience members, from gallery owners to artists to kids from the projects, left in between choose which side to watch.
On one side in front of a huge painted canvas backdrop and featuring live music by both Tim "Love" Lee and Jarvis Earnshaw with Emil B. Nasty (also the groom), The Wedding had an actually engaged bride and groom, who's real love added an emotional intensity to their performances, a baby in a masquerade mask in a milk crate and a blindfolded witness, who was dragged out of the audience and into the show.
Opposite this beauty was The Vampire Circus, representing the darkness in the world ignored by The Wedding.  Surrounded by Alan's drawings and classical music, which lightened up the mood a bit, two vampires and a live tarantula crouched over a victim, who seemed to disintegrate into the floor. After awhile, all the performers in the show ceased to be readable as human and become completely art objects, indistinguishable from Alan's sculptures placed in the background.
The scene on was straight out of Downtown 81 or another Lower East Side classic, a menagerie of art, music, punks, gallery owners and strange hallucinations of a vampire's victim disappearing.  A real Downtown performance in one of the original Downtown spaces, Michael Alan's Living Installation injected some real life and creativity into the staid art world.