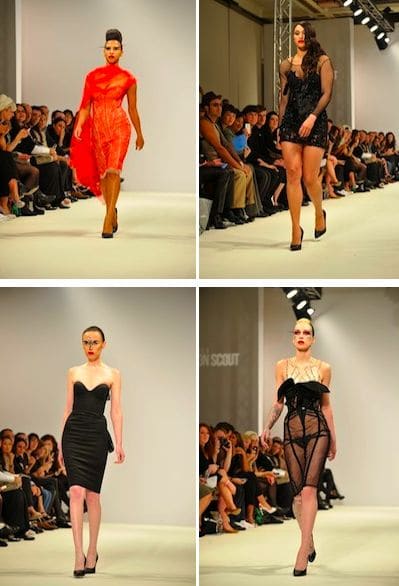 Fashion's most non-fashion designer Ziad Ghanem wowed the style pack with his seductive yet macabre show entitled 'Matka Joanna'. Inspired by the profound and yet touching Polish film Matka Joanna od aniolów (Mother Joan of the Angels) a dark tale unfolds of a nun processed by demons – where love and sacrifice provide her only salvation.
Pre-show it was almost a case of blood on the catwalk as a scrap between photographers kicked off leaving the PR staff to referee the situation! And that was just the beginning…
The antithesis to a straight up and down catwalk show worn by roster of same-size models "Most catwalk shows send me to sleep," says the designer. (Funny, Vivienne Westwood too said this season that "she never watches other designer's shows.") Ziad openly embraces the unique by casting a broad range of characters to bring his collection alive, the show is as much about them as it is his designs and they certainly know how to work it.
It's no mean feat to pull off couture workmanship, curve-enhancing corsetry, cascading silk organza and Italian vintage fabrics with latex, masks of make-up and acres of tulle but he does and so the story unfolds. The black vintage lace floor-length gown would befit any red carpet event and Ziad's skill and artistry was clear for all to see.
Not many designers would include a book of homo erotic poems in their show goodie bag but then there aren't many like Ziad Ghanem and he certainly gives good show!
article continues next page