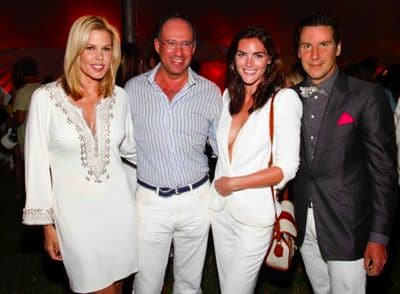 This past Saturday in the Hamptons the 12th Annual Love Heals at Luna Farm kicked off to an amazing start.  The theme of Coney Island comes to the Hampton's was a great way for NY chicest socialites and wannabies to experience a part of NYC they have probably never actually been to (Brooklyn?).  With hot dog vendors, ski ball, a ring toss, and a rollercoaster themed photobooth to entertain the Patron fueled attendees, the night swiftly turned into a classic Hampton's shit show.
With such an illustrious list of lovable media whores as:
Co-hosts Hilary Rhoda, fashion stylist Mary Alice Stephenson and Avenue's Peter Davis were joined by New York Rangers Sean Avery and Brad Richards, mogul Russell Simmons, BRAVO'S Real Housewives of New York City's Sonja Morgan and Cindy Barshop, Love Heals co-founders Dini von Mueffling and Victoria Leacock Hoffman,BRAVO'S "Million Dollar Listing's" Josh Lagg, Dior's Dianne Vavra, Jamie & Bettina Prentice, fashion designer Miguelina Gambaccini, Chris & Cristina Cuomo, model Marybeth Dupain, Tanya Zuckerbrot, Irene Albright, Ann Caruso, Elizabeth Harrison and Cinema Society's Andrew Saffir & Daniel Benedict, the night turned out to be a great way to party for charity.