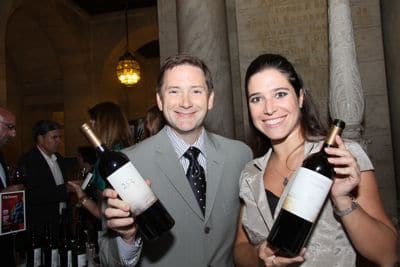 April 17th is national Malbec World Day, thanks to Wines of Argentina organization. The Consul General of Argentina, H.E. Ambassador Jose L. Perez-Gabilondo requested the pleasure of wine aficionados, and the like—this past Thursday, at the The New York Public Library, on Fifth Avenue.
The cultivation of this notoriously 'sweeter' grape, into Malbec—began in the mid 19th century, thanks to Michel Pouget, of Mendoza. A grape that France neglected has proven to be a remarkably growing Argentinean export, into the U.S. A 20 million dollar export, in 1998—the industry has surmounted by 2010, into a 200 million dollar one that is well deserving of an entire day's honor celebration.
A couple dancing Tango, adorned the mesmerizing balustrade—marble, Doric columns etched with classical Greek features, as everyone ingested the abundant fruits from desert, mountains and sea. A deep purplish aroma, well structured finishes and balanced contours, reflective of the Caucete, Pocito, Uco Valley or Mendoza regions.
Bodegas Salentein, a vineyard located in the upper reaches of the Uco Valley, along the eastern slopes of the Andes offered four notable Malbec varietial taste: Callia Alta Malbec, Killka Collection, the Portillo range and Primum and Numina range. Samplings were smoky, spicy—and young, while the rich, more palatably erect tastes belonged to mature, well-aged varieties.
Graffigna's San Juan vineyards too made an impact, at the reception and tasting. Better wines, cultivated 4,600 feet above sea level, it is here in the Perdernal Valley, that humidity is low—sunshine is high—and the "Zonda" winds help bring to life softer, more delicate tannins. Their Centenario Malbec, opened my nasal passageways and aroused my thinking, in the most memorable ways.
Malbec grapes cultivated at higher altitudes tend to produce grapes with thicker skins. The wines, consequently, evoke the full-bodied cold of the rustic, harsher conditions, from which they were bred. Those grown in lower altitudes, produce grapes with thinner skins, and younger, fruitier juices. These contrasts, subtleties and origins—of a grape, that is now strongly Argentinean, will continue to be honored—April 17th, forever.
Pictures continue next page.