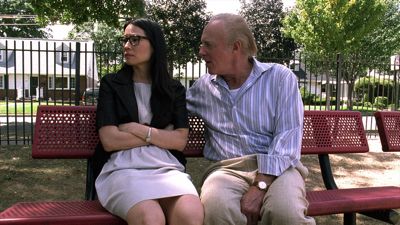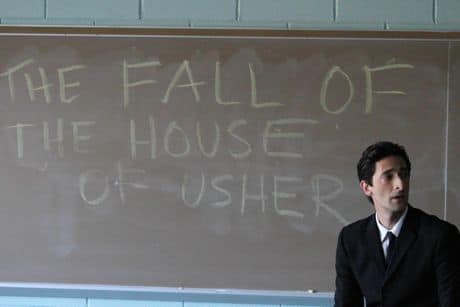 "Red! The color red! Look for it! Listen for it! Red!" Brandishing a possibly blood-stained piece of cardboard, a wide-eyed and long-bearded prophet for a new age, complete with acoustic guitar and whole foods recyclables, visionary director Tony Kaye urges us passionately from the stage of what has come to be known as the Tribeca Film Festival.
A slick and shiny, dark-knighted version of his eminently human chameleon star, Oscar-winner Adrien Brody holds the mike for him as he serenades the crowd rock-and-roll style. Something about art and life and tribulations, and about not caring.  Ever the orchestrator, he aptly gets the glitzy sold-out theater to belt out: "I don't care!" in unison before the lights go down. Aptly, because ready or not we will have to care, and aptly, because our serially-failing efforts to erect a barricade around our tender-hearted feelings are at the very core of Detachment.
TONY KAYE'S DETACHMENT – EXCLUSIVE FIRST LOOK from DETACHMENT on Vimeo.
 
Yes, darkness has its twists and meandering turns and it's likely Tony rode a few of those in the years since hijacking the self-respecting middle-class with American History X (Open wide, anyone?). He came back with a bag full of punches and a heart full of compassion. Detachment is anything but, a throbbing wound of love and suffering relentlessly pounding in all of our chests. And yet, mischief often undermines misery, empathy always overwhelms detachment, artistry never overshadows storytelling.
Brody's Henry is a substitute teacher coming to wave a bit of literature in front of terminally unruly students, to catch who will listen and stay out of trouble. Henry is a substitute teacher visiting one of those tough high schools for a few weeks, to bear witness to the shattered souls attempting to keep the altruistic dream alive and to the lost ones that demolish it daily. Henry doesn't mind being a substitute teacher, he likes floating in and out of drama and keeping his heart intact. Henry's actually fine acting as a temporary substitute for a human being because then life can be lived without consequences, in tightly-wound single-serving packets, his reality changing at regular three-week intervals. Things don't have a lasting effect on him and he doesn't have a lasting effect on anything or anyone. That's the plan. Trying really hard not to care.