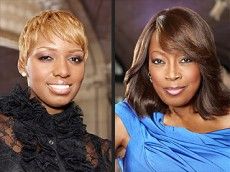 Oh no she dittint'…..
Real Ho Housewife of Atlanta NeNe Leakes wants to let the world know she thinks Star Jones is a 'disaster'.
Really NeNe? Who didn't already know Sister Jones was a hot mess?
The Real Housewife has most recently gone on to be a member of Celebrity Apprentice, a deal that landed her on the daytime circuit, including a sit-down with Ellen DeGeneres. An interview in which NeNe dishes about her Celebrity Apprentice opponent Star Jones.
Access Atlanta: "She is bossy, she is manipulative, conniving," Leakes said of Jones.
Hmm, doesn't this ring a bell? We're pretty sure NeNe has used the exact same words for RHOA co-star and sometimes friend Kim, and her other costar Sheree as well.
In rebuttle, Star says of Nene to Daytime Confidential:
"We're not on the same level. Let's make that clear. We're on the same show."
Well, Star, typically we'd agree with you. But this time, we have to go with NeNe. While your talking to Daytime Confidential, that bitch is putting you on blast on The Ellen Show.  So whether she is on your level or not, she just one-uped you as a media whore.
And, Star, isn't that what's really important?