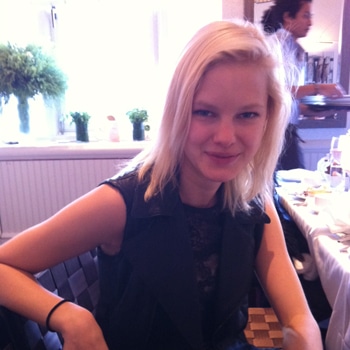 taking your comments. i don't see what you said as offensive, if anything i think the fact that you said you loved it is being overlooked. it must be hard to comment on a woman's body type at all with all of us feeling constant personal evaluation.
Yes a duck is  a duck, except in the fashion world where it's supposed to be a quail or whatever preferred image is making the rounds this fashion season.
But feeling vexed Mr Schuman (yes being politically correct it seems is tre important) decided to make an update:
A number of the commenters are upset by the word "curvy." They feel I should have used the word "normal." However, normal is relative. There is a young lady on my team who is 5'0″, and another who is 5'9″. Which would be "normal"?
[…]
Remember, curvy is a body shape, not a weight. To be honest, you can't really see in these photographs most of the curves – chest, stomach, hip – this woman has.
And the woman in question, Angelica Ardasheva, what was her response?
"i just can say that i never felt hurt.i think i have a normal body neither fat nor thin,curvy is ok,of course my body was pretty different fro the other girls where around there,wheter they are models,editors,bloggers of whatever,I was taller and more…curvy! but I did not mind at all."
But Jezebel was having none of it and decided to take out a hatchet:
Schuman is defending his choice of language ("curvier," "bigger," "sturdy but beautiful") rather than his choice to comment on Ardasheva's body at all. The problem isn't the words he or anyone else might use to describe a woman's body, the problem is that women's bodies are (thanks in large part to the fashion world and its incredibly restrictive norms) widely considered appropriate subjects for public critique and commentary at all.
Well at least the author at Jezebel agrees with us; that the fashion world has gone and bastardized what it considers appropriate form and subjected us mere mortals to unattainable aspirations.
What about styleite, what was their response to Mr Schuman's update?
But sadly, he misses the mark. Schuman did a good thing by posting her photo: she looks amazing. But he did both her and himself a disservice when he made such a concerted effort to point out that she was different not only from "bloggers who you see in the press" but from women featured on his site specifically. This industry has a difficult time including a wide variety of people (in shape, race, size, and socioeconomic circle) in the same group. Instead, there's plus-size and straight-size and over-40 and Asian Issues and Black Issues and so, when one makes an effort to be more diverse, it somehow feels necessary to spotlight it and shout it from the rooftops in what is presumably an effort to encourage diversity when all it does is highlight why diversity is needed so darn badly in the first place.
And perhaps the fashion rags ought to be disconcerted, because as media players we're all guilty of perpetuating stereotypes and greasing the machine that keeps the hits, the sales and the champagne bubbles in flux.
Ultimately we have to ask ourselves why is the industry so loathe to address what really passes for fashion, real bodies and real behavior instead of appropriating extreme images of preferred images and utopia which requires an incredible dieting stamina and the redundancy of a media to appear offended when it so often plays along with the charade?