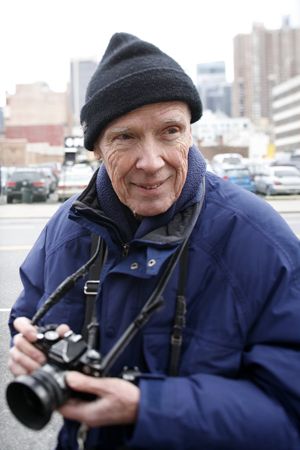 Peripatetic visionary fashion photographer Bill Cunningham bikes through the streets of Manhattan capturing a witty array of New Yorkers dressed to kill–filling the pages of the NY Times each week with 2 columns,"On the Street" and "Evening Hours". Famed for spotting trends on the street before anyone else ("We all get dressed in the morning for Bill", admits  the usually cool-as-a-cucumber Anna Wintour in this delightful documentary)  as well as capturing young and unknown fashionistas and society's grande dames at endless benefits, the elusive Cunningham makes for a mesmerizing subject.  .
Richard Press'  heartfelt documentary, "Bill Cunningham New York" follows  the legendary photographer—from his miniscule Carnegie Hall studio (filled with old photo-stuffed cabinets, a bed on the floor, and a bathroom in the hallway) to the NY Times where he meticulously designs his columns with the art director, to a round of parties dressed in his proverbial Parisian workman's bright blue jacket). No matter the event, Cunningham accepts neither food nor drink ever. He has only one passion:  capturing original style.
Press admits that it took him 10 years to make this portrait of the 81-year-old, energetic Cunningham: the first eight convincing his subject to agree—and the second accompanying the former hat maker on his nightly forays uptown and downtown–obsessively capturing the denizens of the chiffon jungle.
I HAVE KNOWN BILL FOR YEARS, PHOTOGRAPHED with him—even in the most chaotic of situations, he is always a gentleman.