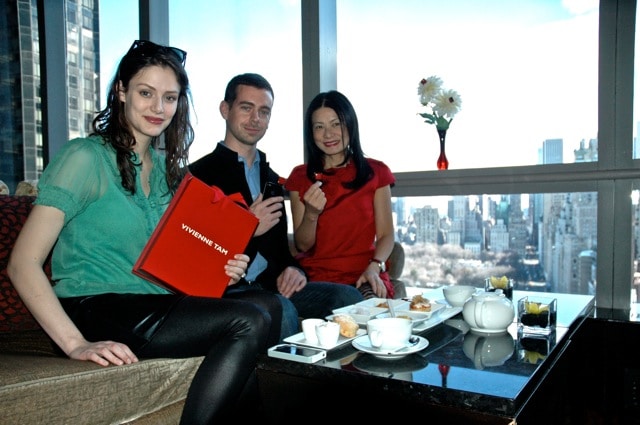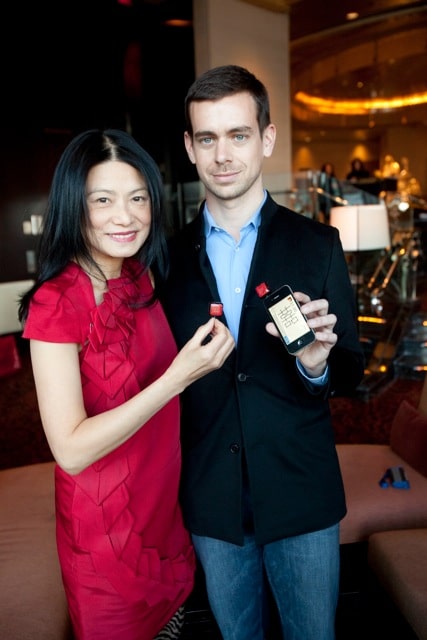 "I think design and art have a very interesting intersection with technology and when they do meet then it just feels really magical and it makes the experience feel beautiful so you don't think about the technology anymore, you just think about using it." 
Upon seeing designer Vivienne Tam and Twitter founder Jack Dorsey, an uninformed observer might struggle to envision their successful collaboration. She, a soft-spoken Asian beauty with a flair for colors and flowing lines and he, a savant of that series of tubes, driven and linear.  
Sitting side by side in the serene Asiata at the Mandarin Hotel, they are, on the surface, a picture of polar opposites. She is in a fitted red dress with abstract floral accents, her long black hair flowing, framing her delicate, ageless face. He is the picture of a tech whiz kid: slightly awkward but confident in his immaculate suit tailored to his slender frame (honed, no doubt, by energy drink fueled late nights at Missouri University of Science and Technology). 
But look beneath the surface and similarities emerge. Tam has a history of designing technology: a series of computers for Hewlett Packard and an Animax movie, for example. He is involved in every aspect of Twitter, even the distinct aesthetic. They are both extremely detail oriented, and committed to perfecting every aspect of the consumer's interaction with their products from start to finish.  
This commonality served them well in their collaboration: the Double Happiness Square. This tiny gadget created by Jack and designed by Vivienne attaches to any iPhone or iPad and allows the owner to accept credit card payments from anyone. The implications for small business owners and freelance artists, to say nothing of group restaurant dining, are huge.  
The product itself is less than an inch across and it, like Tam, is beautiful but understated. Red and black lines create an image that, also like Tam, seems to bridge the gap between Eastern and Western aesthetics. "We really love those Eastern philosophies of treating money as flow and a positive energy," said Dorsey, "instead of what a lot of us in this country see it as, which is fairly negative…it always feels like a burden, something you have to get through and we have an opportunity to make it feel amazing and to make it feel really inspiring and we do that with great design and great art and with great passion." Their passion is clear: they may be calm and collected, but they are also beaming with pride. "To come up with something like this, so new, for daily life, it's incredible," said Tam.