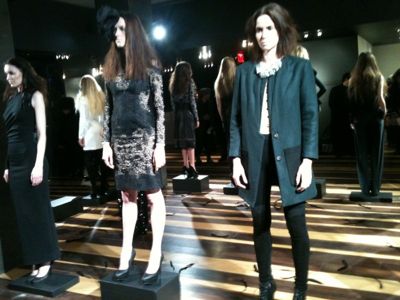 The mysterious allure of the Plaza hotel was the perfect setting for Daniella Kallmeyer's fall 2011 collection titled "Raven's Nest" this fashion week. The top tiers of the fashion industry (including Fern Mallis) teetered to the presentation to capture the raw and overtly compelling hand sewn garments on 13 models. Todd English quenched the thirsty crowd by providing gin, vodka, champagne and all of the necessary mixes, while an electric violinist used the eeriness of chord to place us in a Sleepy Hollow like setting. Daniella, family, and friends delivered information on the pieces while the crowd circled the models and sipped on their drinks.
Each piece clearly represented Kallmeyer's inspiration from the great Alexander McQueen's unearthly illustrations in Art Forms in Nature. The way she describes her collection in reference to the late designer is almost as darkly romantic as the body hugging one shoulder floor length dress on model 13, "I fell in love with years ago in Alexander McQueen's library in his studio in London, "The Ravens Nest" represents the multiple layers of one of my most emotionally driven collections, hatched from a dark dreaminess, and woven carefully together through a selection of rich wools, unique furs, laser cut lace, and hand painted mesh. Detail and entwined intricacies mean to encapsulate an effortless sense of sensuality, fantasy, timeless femininity, and modern androgyny."
Sure enough, each look had an appeal for feeling as every different stylized woman across the world, classic and simple or striking and complex all while remaining somewhat Victorian; one can wear the entire look or just one of the hand sewn pieces. Blacks, seaweed green, minute blood orange accents, and white are the only colors in the collection and like most fall collections; the coat is once again the statement piece. Kallmeyer provides us with coats to choose from, each one widly different in cut, color, and appeal. The white wool coat with a double lapel lands among the top 10 items I want in my closet for the fall, and I can only dream of the hooded rabbit fur "plongers" in white and black (what a great change from the popular fur vests from last season)! Daniella also designed all of the jewelry in the collection and she was certainly right to include the crystal chain linked necklace to top bare chest beneath an oversized box coat.
Emerging and young talented designers were every where this fashion week and Daniella Kallmeyer, at just  22 years old, is among the few to look out for with this small, but powerful collection. As the sun set during the time of the presentation it was almost perfect timing to exit, with a gift bag in hand, to the chilly and winter air of central park where a ravens nest might be found.