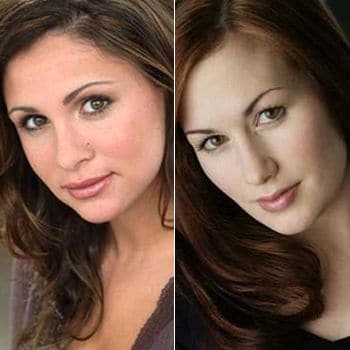 Don't call us, we'll call you.
Two actresses who worked at the Boom Boom Room last summer as waitresses at the uber hard to get in only if your look and act like you're fabulous venue are currently embroiled in a wrongful termination lawsuit. The reason they claim- after months of working there and receiving upstanding performance reviews they were suddenly let go when the venue re opened after a revamp of their themes for not being tall and willowy enough like the other look alike employees that worked there.
styleite: The New York Daily News reports that aspiring actresses Faye Rex and Stephanie Jaggerslost their jobs last summer, soon after the Boom Boom Room opened up on top of the trendy hotel in New York's Meatpacking District. Rex and Jaggers had gotten positive performance reviews up until that point, but as soon as the bar re-opened with the new name, Top Of The Standard, their employers gave them evaluations of "not up to par" or "less than par."
Which raises the question, for a venue that is (in) famous for attracting a coveted crowd, can we really believe that it would yield to preferred aesthetic appearances as the actresses claim so it may continue yielding the crowd that it covets? Which is to say, can a venue turn around after it's been documented that the waitresses were indeed in good stand and fire them for not looking like the crowd that it is trying to cater to, or can we even wonder that the girls were let go for other 'unspecified' reasons? And as an employer, can it fire and hire at will without having to offer any reason to begin with? And even more so- can a venue fire you if it suddenly decides you no longer match the desired wallpaper?
Their lawyer, Richard Roth, says that the only thing that was less than par was their height. Fay (who is 5′4″) and Jaggers (who's in the same ballpark) don't fit the "beautiful, tall and skinny" mold of the other women who work at the bar, which has earned a reputation as a playground for the cool, famous and fashionable. And so they were let go.
"They were excellent employees who were terminated for one reason – their body type," Roth said.
If this is indeed true then one is forced to wonder if the Standard hotel has gone too far in exacting its aesthetic dispositions. From what we understand of the law- this does in fact come within the bounds of discrimination, especially after the ladies had been in employment for a while. After all – if part of ones job requirements is looking like a model- then these girls should have never been hired in the first place- but when you're 5'4 – that's pretty hard to miss when you're really looking for a 5'9 svelte, willowy and statuesque model.
Should you be fired for not looking like a model too?
SPECIAL GUEST DJ SHEPARD FAIREY CELEBRATES KEITH HARING AT THE STANDARD, HOLLYWOOD
FRENCH WOMEN ARE STILL GORGEOUS AND WHY THE STANDARD HOTEL IS SUBPAR.
YUMMY, IT'S TIME TO SALIVATE OVER THE STANDARD HOTEL'S 'LE BAIN.'