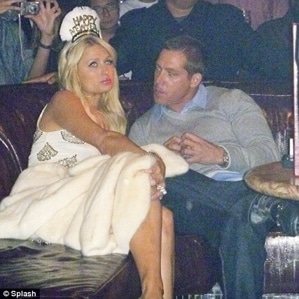 Did one of you bitches steal Parasite's cellphone?

The children of Los Cabos were seen scurrying in all the relevant coke dens this past weekend as reports surfaced that Parasite Hilton had somehow 'misplaced' her cellphone and thus was forced to endure a torturous beginning to the new year.

dailymail.co.uk: Paris Hilton looked distinctly unamused as she sat next to boyfriend Cy Waits at a New Year's Eve party in Mexico.
The 29-year-old heiress was attending saw in 2011 at a nightclub in Los Cabos, where she has been holidaying over the past few days.
But it seems being parted with her phone, which she lost on Thursday night, was too much for Paris to take.
And really who can blame the Queen of Sheba for being so glum- after all a media whore who is cut off the rest of the world is like a patient with a failing kidney cut off from a dialysis machine- and that bitches as you know is serious stuff.
Taking to Twitter, Paris told her fans about her 'fun' but 'mellow' New Year.
'Just getting ready for bed. Had a mellow, but fun New Year's Eve. Hope everyone had a great night! HAPPY NEW YEARS! Love Paris xoxo.'
In an earlier posting she complained about losing her phone on Thursday night, writing: 'Sucks not having a phone on New Year's Eve. 🙁 So since I can't text anyone. Just wanted to Twitter to you all HAPPY NEW YEARS! Love Paris.'

Are you whiffing the air of discontent like us? Oh poor Parisite, let's hope the children of Los Cabos, Mexico manage to find your cellphone and in the interim cheer up sunshine- at least the paparazzi were on hand to let us take deep breaths of your omnipresent being.
Paris Hilton Smuggles Cocaine Stash 'Up her Snatch'
The Weekend in Celebrity Profiling: Paris and The Jersey Set Under Attack
Parasite Hilton now suspects she was set up.
Parasite Hilton is being sued for $35 million dollars.
What's missing in this picture of Paris Hilton?