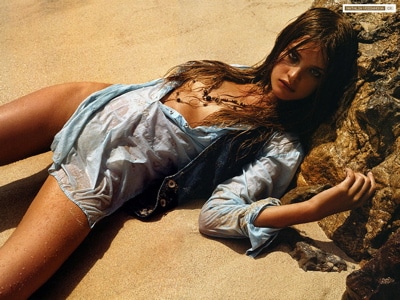 Number 4: Natalia Vodianova
Natalia is proof that anything is possible. Born in a small town in the former USSR, Natalia paved her way to becoming one of the highest paid models in the fashion industry. Somewhere along the runways, she managed become multilingual, get married and have three children, seemingly overnight. Natalia has a way of making magic happen both in front of and behind the camera in what seems to be an effortless yet implausible way.
She is the founder of the Naked Heart Foundation, Ambassador for Hear the World, and even takes time to donate to charities outside of those she represents, such as a charity I am involved with called donate life. There must secretly be three other Natalia's because it is hard to imagine accomplishing all the things Natalia has while not showing the slightest sign of age or stress. Mother, wife, supermodel, philanthropist; Natalia is easily the Angelina Jolie of the modeling world.

Scallywag's notes: A class act all the way and an inspiration to so many young women out there. She's raised the bar high (but then again what Russian doesn't ?). Stunning, gregarious, philanthropist, she's got your this editor's tongue's wagging. A mainstay for a while to come. Strut those planks girl! If only Natalia could give us the occasional scandal….let's hope so not.