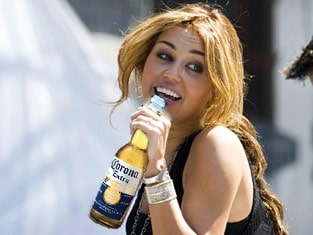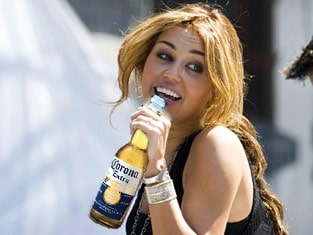 Since Miley was spotted 'just bein' Miley' in Madrid this week with a Corona brand beer in hand, all the usual suspects have been hinting, not so subtly, of the probable Lilo-like self-destruction to come, and at least one international organization has alleged that this time our provocative young star really has "gone too far."

The International Institute for Alcohol Awareness says that Cyrus, 17, whom was said to be "casually drinking" while "out on the town," will influence young people who see her as a role model. "As a consequence" they say, tweens "will go out and become intoxicated putting their safety at risk."
Good news for Miley to be sure. Especially considering that all indicators show Miley intends to violently break the child pop-star mold like so many others before her.
And while, as PopEater justly noted, Miley seems to be "following a script for teenage rebellion," we still have to wonder if Miley is following the script, or if we are.
Is sipping one cheap Mexican beer enough to start getting international organizations involved and the entire English speaking world excited about another star's impending downfall, or do we just know so well by now, from so much prior experience, that this the point at Miley's career where she's supposed to self-destruct that we read auto-aggression into any minor slip-up?
Which, in any case, best displays how we treat our stars once we've tired of them and outgrown them, or in Miley's case, once they've outgrown us. Seeing this enough times one gets the sense that celebrity self-destruction is a necessary spectacle, an unstoppable cycle, a force of human-nature just like any other. If we didn't first help used stars destroy themselves, how could we ever make headline space for new ones?

The bad behavior of young women.
Miley Cyrus On a Mission to Piss off Disney
Why Are We Consuming This? Timbaland, Cyrus.
Is Miley Cyrus Becoming an Ungrateful Brat already?
9 year old Noah Cyrus shocks civilization by turning up as a dominatrix.
This Just In: Teenage Girl Raps Terribly.
Pandemonium in TV kiddie land:When the drinking and the nipple rings come out.
Lindsanity Trying to Infect Miley?