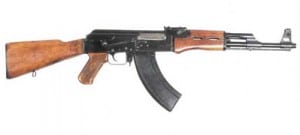 Is this a deal too good to pass up?

Looking to buy a used truck? So are we. That said we came across this new sweet deal that has us even salivating. Let's load up some rifle cartridges and follow this way…
Nationstruck – who tell us loud and clearly on their banner page 'they sell trucks, not gimmicks,' has a new gimmick promotion this month. Let's all apply together now.
Yahoonews: SANFORD, Fla. – A central Florida dealership trying to drum up business is offering an unusual perk for potential used-truck buyers: A free AK-47 assault rifle.
General sales manager Nick Ginetta says that since the promotion was announced on Veterans Day, business has more than doubled at Nations Trucks in Sanford.
More than doubled because unlike most caffe latte drinkers who only get a cookie on the side if they order another shot of the sweet stuff Nicky's customers are only all to willing to shell out the extra moulah for a used truck because it so happens they're all gun totting afficiandos in the first place. Something we're betting even seasoned espresso drinkers had no idea of.
Customers would have to pass a background check before using the $400 gun shop voucher. They also have the option of using the money toward other firearms, or they can request a check in that amount instead.
Background check? What type of background check would they have to pass? The one that says that they have watched every Rambo and Terminator movie ever made? That they enjoy the sweet thrill of riding down the local I-95 with a loaded gun picking off all those imbecile drivers that happen to get in their way? Mmh- perhaps we should even apply?

The dealership has fielded some complaints about the deal, which Ginetta acknowledges is controversial. But, he adds: "My buyer is absolutely a

gun

owner

, no question."
The promotion runs through the end of November.
Shouldn't you hurry up and get your AK rifle soon?