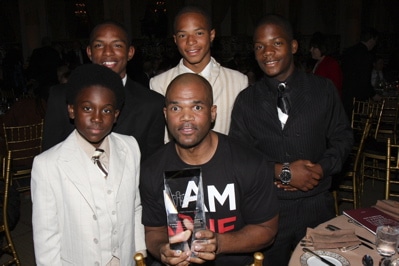 It's rare to see a governor and a rap legend share the stage. But when a cause is worthy, it seems, people from all walks of life convene to support it. Such was the case on Tuesday night at the Plaza Hotel, where New York's magnanimous and moneyed turned out for the Children's Rights Benefit.

Here at one of New York's most palatial properties, a stylish crowd mingled on the second floor at cocktail hour. The din of their conversation bounced off the intricately-decorated walls and towering ceilings as they gathered in tight-knit groups. Perhaps as long-standing supporters of Children's Rights—a nonprofit advocacy organization for the welfare of abused and neglected children—they all knew each other. Maybe this was a yearly reunion.

I ducked out of the well-dressed, philanthropic throng for a moment, sipping Sam Adams in a goblet (suitably fancy for this urbane affair) and saw the night's two stars coming together for a hearty handshake. There they were: former New Jersey Governor Jon Corzine and rapper Darryl McDaniels, better known as DMC (the latter half of rap pioneers Run DMC). The flashes popped as these two got to know each other—an unlikely pair bringing attention to a pressing issue.