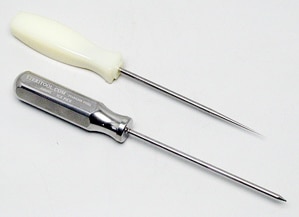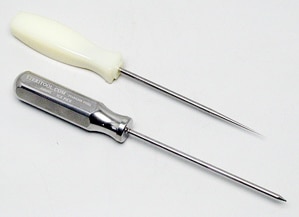 In celebrity stalking story sounding almost too eighties to be taken seriously, 59-year old retired firefighter Robert Linhart has been arrested on weapons charges after getting caught creepin' outside Madonna's Upper West side house with a series of signs tied atop his SUV apparently aimed at heaven, oh so appropriately, for her eyes only.
They read: "Madonna, I need you"; and another, "Tell me yes or no…If it's yes, my dream will come true. If it's no I will go. XXX."
Triple X's, aha, nothing else could possibly be quite as romantic, just ask Sam Jones and Karissa Shannon.
Linhart, who was charged with criminal weapon possession for carrying "a Leatherman knife and a pocket knife," on his persona and an icepick in his car, stated, "I'm going to go right back there (Madonna's apartment) and do it again," … according to the documents. Probably after flashing sharp objects at the thrift store to steal a used stereo and worn out CD single of For Your Eyes Only by Peter Gabriel.
But is this stalking really serendipity, or better yet, what the father of our favorite 80s hero, Marty McFly, once called 'density'?

"I keep running into Madonna." he said. "I saw her in 1992 and I'd actually like to meet her in person. I won't stop until I actually meet Madonna.''
Linhart, all too eager to make the almost indecipherable kind of rambling statements us hack reporters always chuckle at re-quoting, has somehow made a stalking case that seems to be occurring twenty-some years too late into an issue that seems, if anything, oddly timely…
Australian News: After he was arrested, Mr Linhart told police he had a right to be outside Madonna's Upper West Side home, The New York Post reported.
"I can be here. This is police brutality. I have a right to do this. I am not doing anything wrong," he told the officers, according to court papers.
"But," we're sure you're wondering, "since when do we have a right to stalk people, other than on social media?" Could be that our culture's changing, physical interaction becoming more like the life we live online and not vice versa? What better way to account for such a time machine stalker who seems like someone out of the second installment of Back to the Future?