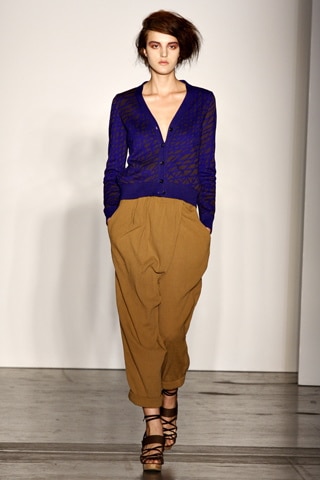 I wrote last February that A Détacher's Mona Kowalska marches to the beat of her own drummer. Now that I've seen her Spring / Summer 2011 offering, I'd like to revise that statement upward. Kowalska isn't just unique (though she is), she's some kind of crazy genius.
If there is an A Détacher trademark (and perhaps there isn't), it would be a distinctive use of prints. Some stand alone – free flowing or gathered – while others are mismatched like a Marc Jacobs. The prints were out in full this season, but there was also a wider selection of classic wardrobe standbys like A-line skirts and belted dresses.
But back to the prints- goodness. Two weeks ago it seemed buffalo plaid had seen the last nail in its trendy coffin, but now I'm not so sure. A bastardization of the faddish print was used on several skirts and dresses, looking dirtier and more intentional than we've seen in the past – sort of like the old version was run through a copier low on toner. Buffalo plaid wasn't the only resurrected dead trend – Kowalska revitalizes the romper as well, giving the look a – dare I say it? – business appropriate slant.
The fashion world can be very exacting in its standards. Kowalska somehow exists on a plane above the maddening rules, so when she does something as simple as sending two models down the runway at once it feels like she's reinventing the entire runway concept. She's not, obviously, but she manages to play close enough to the line drawn by convention that one suspects she may cross all the way over any day now. But not yet.