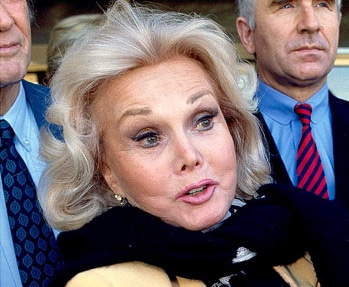 Asking for her last rites in an L.A. hospital, Gabor is now facing what are anticipated to be, her last hours. The last remaining of the three Gabor sisters, actress and socialite, Zsa Zsa is one of Hollywood royalty's oldest living legends, preceded in death by both her older sisters Magda, Eva; all of who may be mostly famously known for their long string of marriages, holding twenty husbands between the three of them. Zsa Zsa's current husband, American socialite and weirdo, Frédéric Prinz von Anhalt, is said to be by her side.
We just hope that Frédéric isn't too devastated over the loss of his beloved Zsa Zsa, the last thing Hollyweird needs right now is him announcing again to be some starlet half his age's Baby Daddy.
NY Daily News: After being rushed to the hospital Friday with bleeding and pain, she underwent surgery for several hours to remove the blood clots, one of which was very close to her heart, Blanchette said.
Gabor has had tough luck with her health in recent years. She was partially paralyzed in a car accident in 2002; and her most recent health troubles began on July 17th, with Gabor fell out of bed, breaking her hip, while watching Jeopardy. She had undergone a recent hip replacement, and had just returned home from the hospital on Wednesday.
Banking over sixty years in entertainment business; Zsa Zsa will most assuredly be missed. Stars like this broad only come around so often…oh those damn tears.