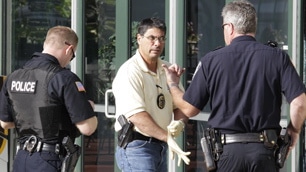 Trying to understand another mass shoot out…
It's seems to becoming endemic of American culture to take out your gun and go on a shooting mission. That said let's visit the latest blood shed letting and try to understand what went horribly wrong. Assuming one can find reasons to die…
CNN: Police in Buffalo, New York said Saturday evening that they have arrested and charged a suspect in connection with a shooting spree that left four dead outside a downtown restaurant earlier in the day.
The Buffalo Police Department said 25-year old Keith Johnson is in custody and has been charged with four counts of second degree murder.
Authorities would not comment on whether Johnson knew his alleged victims.
Eight people hit by bullets in the early morning rampage, police say. One of the four survivors is in critical condition.
Did Johnson hold a grievance, was he nursing hate, insecurity or perhaps just a wicked thrill to see what he could get up to on a summer Saturday afternoon? But the case has now taken a surprising turn…
Associated Press: Managers had decided to close the City Grill in the city's business district after an altercation inside. The victims were leaving at about 2:30 a.m. when a man who had been inside began shooting, police said.
"There were verbal things going on. Management apparently chose to close down and have everybody leave the restaurant," Chief of Detectives Dennis Richards said. "People were leaving when this shooting happened."
And yet despite all of this new revelations have been made. The DA wants to drop charges against Johnson…
BUFFALO, N.Y. — A prosecutor in western New York has told a newspaper that he plans to seek dismissal of murder charges against a man accused in a shooting that killed four people and wounded four others outside a downtown Buffalo restaurant.
Erie County District Attorney Frank Sedita (seh-DEE'-tah) III tells the Buffalo News he plans to ask for the charges to be dismissed against 25-year-old Keith Johnson in city court later Sunday morning.
Frankly something isn't adding up, but when does anything ever add up when people are senselessly killed?