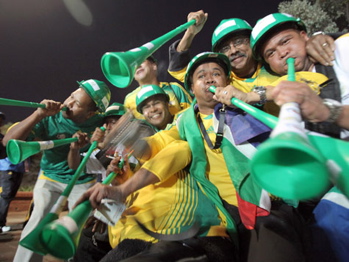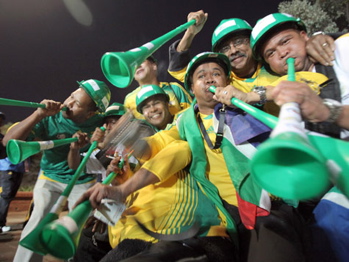 The louder they blow the harder they cry.
Pity me, but commentators and even the players alike in this years World Cup Soccer are apparently crying foul and are begging organizers to ban the plastic trumpet (that has been part of this author's upbringing as well as that of every other soccer tournament the world has known) commonly known as the vuvuzelas because the fans are simply making them deaf and are dinning commentator's commentary.
FIFA World Cup South Africa organisers are considering a move to ban vuvuzelas, the noisy plastic trumpets that have proved a hit with fans but threaten to deafen players and viewers alike.
Criticism of the vuvuzelas has been almost as loud as the instruments themselves, with broadcasting companies complaining the din is almost drowning out commentary.
Frankly does anyone really care what the commentators think? After all it's the fans sitting at the park that give the game its zeal and spark and to sequester the fans into quiet bear cubs as if they were watching a civilized rendition of opera is to miss the point that soccer has always been a working class man's game and to even think you can shut such a character up is folly as well as ineptitude in not appreciating that this is how the game is played and the fact players thrive off it.
France captain Patrice Evra said the incessant noise was a factor in his side's poor display in their draw with Uruguay.
"We can't sleep at night because of the vuvuzelas," Evra said.
Strange. The Uruguay team will tell you it is what inspired them. Anyway we kind of expected Evra to blame the vuvuzelas for not being able to outright beat the Uruguayians. Will blow to that indeed!!!!!!! (let's hope the extra apostrophes don't piss Evra off).