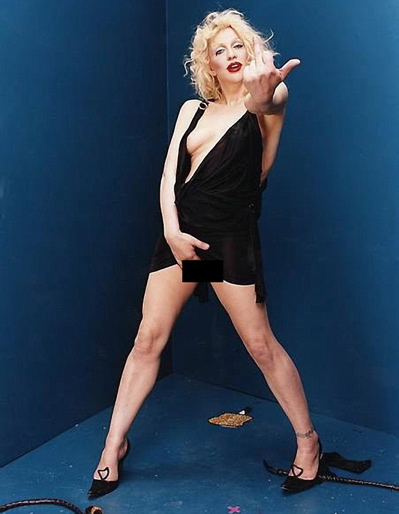 Celebrity doesn't mean anything unless you can moan in public.
Have you noticed something peculiar lately? That every celebrity or celebrity wanna be is trying to out slut the next celebrity because someone whispered while they were getting ready for their afternoon siesta one day that if you want to make it as a tabloid sensation you've got to push a little harder, because after all the audience is getting a little more discriminating and thanks to circus tricks like Lilo the world will never be quiet happy with you unless you show them you are capable of being a slut, coke whore, sex slave, lesbian, teenage slut, abused victim or recovering slut/victim/junkie or something of all the above.
Which leads us to this week's next nomination for ostentatious gratuitous behavior – Courtney Love, who to her credit has always been a whack job before it became trendy or necessary for ones career. But in lieu of nice sweethearts like Miley Cyrus and Sandra Bullock making out with each other, Danielle Staub disturbing us and NJ with her ass licking sex tape or whoever they were making out with (does it really even matter or even register anymore?) even Courtney must be feeling a shiver in the 'I better keep up to the fame whore-dom, money sweepstakes bonanza.'
Which of course leads us to this latest series of monstrosity. Quietly moan in the other room if you must…and follow us as we go through Courtney's Facebook status update…
Source:Huffington Post.
First Photos: Danielle Staub's Hideous Sex Tape.