25 years later, City Harvest is still doing good.  They are feeding hungry New Yorkers (approximately 260,000/week) and yesterday, this included a ballroom full of attendees at the 6th annual "On Your Plate" luncheon at the Metropolitan Club.  On my plate, was a delicious meal consisting of salmon, couscous, salad and for dessert, a trio of sorbets which I fully consumed, as not to add to the 270,000 lbs. of food New Yorkers waste on an annual basis.
Jilly Stephens, Executive Director of City Harvest, welcomed us with a video, "Feed a Dream."  The motto, "Hunger does not have to stand in the way of peoples' dreams."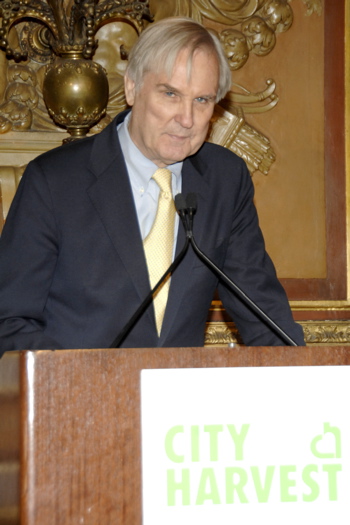 David Patrick Columbia, Co-Founder, newyorksocialdiary.com and Honorary Chair of City Harvest explained his evolution from actor, stockbroker, shop owner and biographer to philanthropist and introduced keynote Silda Wall Spitzer.
Spitzer, Founder of Children for Children, a non-profit through which more than 200,000 young people volunteer across the country, spoke from the heart about the 'power of service,' "Kids who do service perform better academically and they are more likely to give more generously philanthropically."  Statistics we assume but nonetheless, like to hear.  A proud mother with a heart of gold (see Wikipedia), she was touched when her own 3 children banded together to help a fellow human being without being prompted to do so. They learned it from watching you…
Spitzer spoke with a panel of public, independent and parochial school students, recognizing their commitment to service with City Harvest. These students have donated their time (no need to admit schools push you to do so, oops) to helping those in need.  Let's hear it for these future philanthropists, their schools, their role models and a truly remarkable organization.