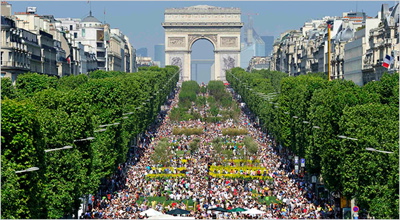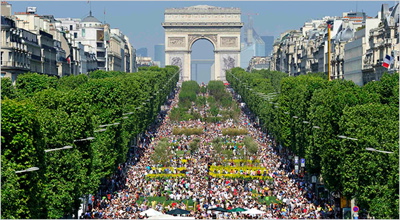 Now the country comes to Paris.

It used to be that the city kids would venture out to the country, but matters have become so onerous in the French agricultural market that the market has decided to come and almost literally (at least for 2 days) set up shop in the heart of Paris.

It was perhaps its sheer incongruity that drew massive crowds to the avenue that the French call the most beautiful in the world. The federation said that about 150,000 plants covered more than 3 hectares, or 7.4 acres, of the avenue. Farms animals — sheep, pigs and at least four breeds of cows — were held in pens along the avenue.
French farmers have seen incomes plummet in recent years — in 2009, they sank 34 percent from 2008 levels — and have been vocal in their demands for government assistance. But organizers said the event was not meant as a political statement, but rather as an opportunity for city-dwellers to interact with farmers and the rural world.
What of course makes the scene even more incongruous is the lack of violence that one now associates with protesting in Paris and of course even more so of late that in Athens, Greece. Continues the NYT's.

Some saw in the crowds a measure of this city's unfamiliarity with the natural world.

"You can see that they're cut off from nature," said Daniel Millet, 66, returning down the avenue with his wife from a hike outside the city. "People are truly curious about what they're seeing."

Perhaps the crowds would have been re assured if they saw some of their favorite celebrities mooing or better still favorite junk food mega stores like Mcdonald's show exactly how it culls and brings its food to market. Of course that would risk turning an entire nation off it's appetite, let's at least hope the city kids got to enjoy what a cow or sheep looks and smells like up close before it ends up between their hamburger pattie some time in the very near future. Bon appetit.
Source: New York Times.