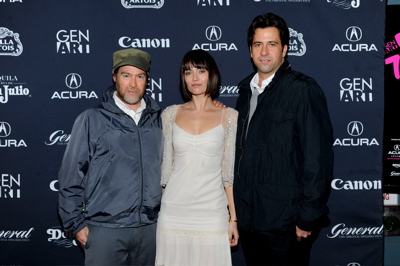 The Gen Art film festival or (casually called "7 premiers, 7 hangovers"), partied its last Tuesday night with the premieres of two films about writers and sons of writers. The first is the Patrick Hoelck-directed, Scott Caan-written and produced "Mercy," the tale of a very-unwriterly romance writer Johnny Ryan, who find out what romance really means when he encounters the title character.
Swaggering tough-guy Scott Caan isn't entirely believable at first as a writer, even as a successful one — only later, when he goes all brooding and bearded, when his skills as both a screenwriter and actor shine through. Wendy Glenn is charming as Mercy, but her character, and her romance with Caan, in the words of Johnny's agent, "lack depth." Visually and sonically, the film is gorgeous, with a hazy, SoCal-appropriate three-color scheme, while the expected indie-rock soundtrack, featuring tracks from Phosphorescent and Kaki King, is evocative, not lugubrious.
The film, distributed by IFC, opens April 30. Patrick Hoelck said he knew immediately who he wanted to play the father of his but according to him, it took Scott a while to figure out, despite the hints Hoelck gave him. Scott Caan named a number of actors, but Hoelk kept prodding him, "Who can you call right now for this role?" It still took him a while to get it. Luckily, James Caan is a standout as the Johnny's cantankerous intellectual of a father who insists that "love is a myth," so credibly you almost believe him.
Preceding it was the short film "The Hirosaki Players," directed by Jeff Sousa. The fresh-out-of-film-school Sousa didn't hesitate to detail his difficult working with "A-list actors" (like Japanese star Eijiro Ozaki) on a low-budget New York City set that was "falling apart." But it paid off, considering the film won "Best Short" during the awards ceremony, he likely won't have to cope with that problem again. The after-party at Nolita lounge BLVD featured an open bar sponsored by Don Julio tequila, and the awards for the entire festival, in which "The Poodle Trainer" and "Tanner Hall" took top honors. Celebrities in attendance, along with cast members Glenn and Troy Garity, included actor Aidan Quinn and Project Runway finalist Althea Harper, a Gen Art fashion alumna herself.