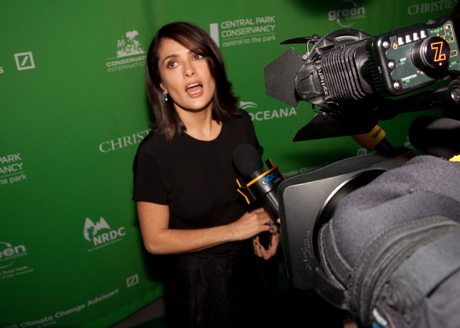 Yesterday we attended
Christie's Green Earth day Auction, a splendid affair which directly benefited four NGO beneficiary organizations: Oceana, NRDC, Conservation International, Central Park Conservancy
. Partnering with NativeEnergy
, a climate solutions pioneer and leading innovator in climate saving techniques—dozens of once in a lifetime travel packages, art masterpieces and Perragaux timepieces, all retailing between $20 thousand and $260 thousand dollars, were auctioned off to benefit the earth's deterioration.
Actress Salma Hayek
, Victoria Secret 'Angel' Miranda Kerr
and Miss Universe Stefania Fernandez
were among those photographed and interviewed on the 'green carpet'.

Miss Stefania Fernandez had this to say; "All the countries have be proactive and take responsibility for what's going on as a whole.

Miss Hayek had this to offer; "There are always ways to improve- recycling for example."
Where as John McEnroe, famed top ranked singles tennis player had this to offer; "People will be impressed, as much as you may think so-  I don't live extravagantly, at most, I have a house on the ocean, on the west coast.
Pretty much everything we do we can do better, from better light bulbs to the cars that we drive, using the subway for example."
Ted Danson
on the green along with Garson
, 'Stanford Blatch' in Sex in the City both admitted to wanting to bid—but unsure on 'what' to bid. "What Michael Patrick King made was a deep 1940's comic; Fans want more, we give them more!" Explained the actor whose posing gay for Sex in the
City since 1998, has won him critical notice.
David Rockefeller Junior's opening speech delightfully emphasized the 'collaborative nature of 'tonight's' experience among artists, celebrities, humanitarians and politicians: "Tonight we have big tools to address large players, art and the environment… This night we celebrate the melting optimism that we can reverse… We celebrate the joy our earth has brought to us in support of both the green, the earth and the blue, the ocean…. finally, we celebrate collaboration."