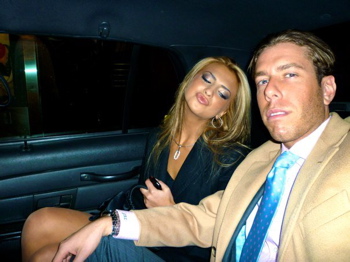 The secret little emails we find in our "in box…"
It could well be that Justin Ross Lee escaped with his life last week after a fist aimed at his head courtesy of Avenue's Rich Thomas did little physical (never mind the psychological) damage. That said we're not quite sure how this week is going to turn out for the self proclaimed 'Jew Jetter.'
Why you ask? Well, we'll let you be the judge of that, courtesy of these leaked photos.
To put things in perspective the girl with the blond mane is Lauren Amanda, a senior at high school who barely just turned 18. The pictures of course were taken when she was 16 which if you do the math don't exactly square things up…if you catch our drift.
To be sure, we're not actually saying anything 'untoward' actually happened between these two, but we do have to wonder why Justin keeps smirking in all these pictures and why the 16 year old Amanda Lauren (sources disclose that she was 16 when these pictures were taken…) happens to be in his company?
In any event we thought it would be nice to share these pictures with you just in case you were wondering what Justin Ross Lee likes to do in his spare time…
Oh dear, how nice it would be to let 16 year old girls be just that..?
Nightlife: Rich Thomas (nearly) beats the crap out of Justin Ross Lee.