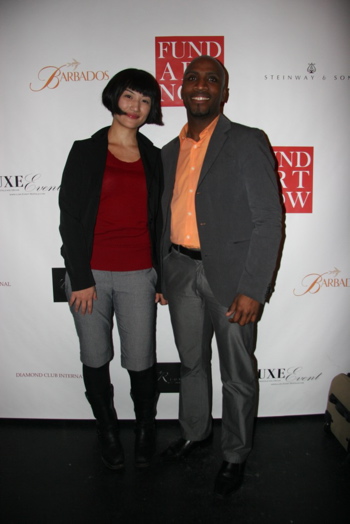 While it's been well over two months since disaster struck in Haiti, support for its people hasn't stopped flowing, thanks to the masterminds behind Sunday night's gala Event: The Nouveau Haiti Arts Benefit.
While this isn't the first fundraiser thrown for Haiti, it also won't be the last. Nouveau Haiti will soon be going on tour to hold similar events across the country.  Regardless, tonight was something special.
Giving credit to any one person for the event's realization would be a touch unfair. Partner organizations in its inception included Fund Art Now, Chair and Maiden Gallery, Hearts4Haiti Global Initiative, Global Syndicate, Gai R Collective, One People One Haiti, NY Historical Society, and Radical Ideas.
Through a collaboration with Fund Art Now, the artwork of several Haitian nationals was on display.  Likewise, the crowd tonight was treated to the songs of Erol Josue, MikaBen and Nia & Pierre Huberson, who performed live.   Haiti was seen tonight, and heard, and even tasted– aromatic and spicy Haitian dishes were abundant.
In addition to the $20 admission, raffle tickets were sold for truly extravagant prizes.  A 4 day vacation in Barbados, $5,000 gift certificates to rent a Lear Jet, and $500 gift certificates for the Diamond International Club. All were generously donated to benefit Haiti.    The night's proceeds will go to the Mayor's Fund Haiti Project and The Future Orphanage Project.
Inspirational as the group effort was, it was the presence of certain individuals that made the night unique. Gardy Guerrier was on hand, while the night was hosted by his colleague, Fabrice Armand.
Actress Cassandra Hepburn (just off completing Quentin Tarantino's new film, Hellride) arrived fresh from volunteer work in Haiti, on behalf of the University of Miami Medical, and Medishare.  Her work also includes representing Haitian orphanages, and directing the donation of clothes, shoes, toys, and applied scholastic materials.  Cassandra is also a board member of Fund Art Now, which provided the locale, the furniture, and the artwork.   "Art is communication," says Hepburn, "It's an aesthetic that touches anyone that sees it."
Fravcois Legagner's work can also be found at www.weknow.tv