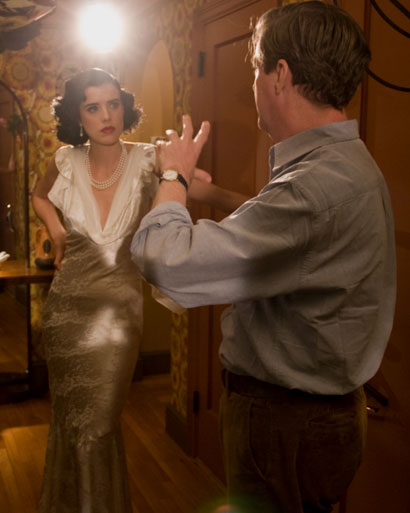 Walking into the most western tip of 25th street, this past Thursday evening at Cheim & Read, I didn't know what to expect. I mean sure I knew the whole plot line from the descriptive invitation sent out, but would I be walking all this way to see a 13 minutes short film called "Mean to Me," if Agyness Deyn weren't starring in it?
Nope.
Deyn has gotten my attention in the past, with her outrageous risks and flamboyantly sophisticated color schemes; in this film, though- you'd hardly recognize her without her short, blond bob do.
Patricia was the name of the character she played in the film noir directed and produced by Peter McGough. A British courtesan to Walter, Linus Raoche—Deyn discovers that her lover intends to marry a rich heiress, not her. Depressed, rendered vulnerable by the notion, she'd be forced back in to poverty if Walter left her.
Initially abused, submissive and controlled by the angry man, strong Patricia rebounds by tying up the man in the bathtub; he is clothed. "I've bought and paid for everything, you can have it—just get me out of here," he demands, but Patricia tortures him as he did her: "Take it back, first—" she contests, but Walter never took it back; Deyn kills him.
"Walter, look what you made me do," she cries, at the end. The telephone ring is suspenseful, and she walks over to get it. "Hello?" Replies the courtesan, but it is not a cop. Not Walter's aid: "Come over and help me clean things up, hurry my love," she says, sweetly.