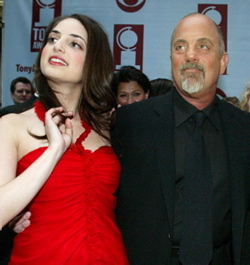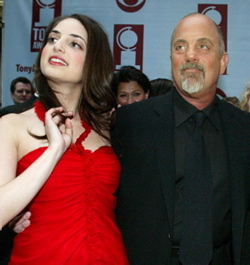 The wonderful things that family connections can do for you.
Nothing personal, well sort of, but has anyone really had a good look at Alexa Ray Joel? The girl looks like the back end of a horse, or to be precise like the back of her dad's ass- Billy Joel, no beauty boy by any stretch of the imagination. Granted mom was and kind of still is hot and we understand her once being a top model but how does it happen that Alexa who not even on a good day could cause a dog to salivate gets awarded a lucrative contract being the 'spokes model' for Prell shampoo, 25 years after mom landed the contract?
Reports the NY Post (dump):
Alexa Ray Joel is the new face of Prell shampoo nearly 25 years after her model mother, Christie Brinkley, starred in ads for the hair product. The singer-songwriter has signed a deal to appear in print and TV ads for Prell while her music will provide the soundtrack, she confirmed to Page Six.
A mistake, a mercy fuck or an inside deal to keep Alexa Ray away from the prescription pills that nearly did her in this past Christmas?
Alexa inherited her mom's glossy locks. She was recently approached by honchos from Ultimark Products, which bought the Prell brand in late 2009, to become their new model.
Notice how even the Post avoids mentioning the girl inheriting her mother's looks but rather her locks. In any event, it's good to have a mom that is a supermodel and kind of bad news to have a dad that looks like the back ass of a cramped mule. But hey, even mules have shiny manes…