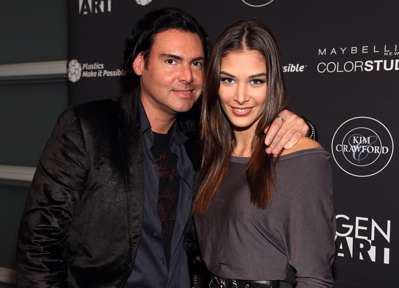 New York City- Feb 10, 2010.
I jumped a moat of frozen slush running down Way-West 18th Street landing on to a patch of icy sidewalk to a collective "ooh" from a crowd of too-thin fashionistas huddled around the entrance to Gen Art's Fashion Week kick-off. The "ooh's" were for not busting my ass on the sidewalk as I fought to stick the landing like an Olympic gymnast.  Thank Goodness for lug soles!
So much for a discreet entrance.
We (me and the beautiful Dayana Mendoza, whom I had the privilege of escorting on this ugly night) were late since our car never picked us up. Somehow, I was able to hail a cab in the blizzard and we got there with a swipe of a credit card. We missed the red carpet but Ian Gerrard, the founder and CEO, of Gen Arts greeted us with an easy air that was more South Beach that the South Pole outside.
Over a thousand people were packed in to the Drive In Studios in Chill'sea for Gen Arts' New Garde Fashion sponsored by Plastics Make It Possible. WesFeld, the design duo of Daniel Feld and Wesley Nault (both FIT graduates and Project Runway alums), was chosen to feature their collection of sea shell inspired dresses constructed entirely of synthetics: poly-organza, poly-taffeta, and plastic boning.