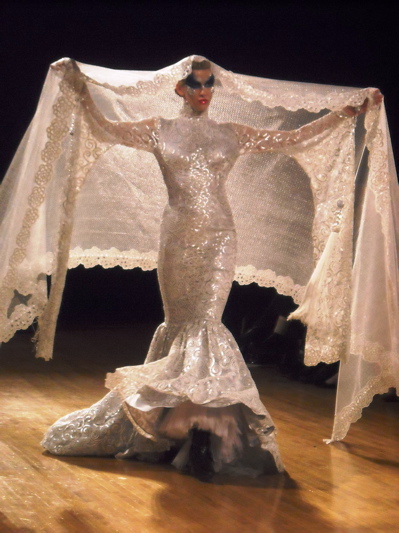 Middle Eastern and Balkan-inspired formalwear and ancient mythology inspires Romanian designer Catalin Botezatu. Models bore globular head dresses as if they were symbols for some ancient empire, becoming larger-than-life-goddesses in their six-inch heels.
Bold blues, purples and reds caught the eye, always lavishly embellished with fur ornaments and rhinestones. A red tartan-inspired Victorian-necked walking dress took us someplace faraway yet familiar. Beads adorned the bottom hem of one flouncy black gown, so decadent the model had to hold it up so as not to trip.
Botezatu eschewed the bare-armed look, choosing to accentuate her model's arms with sleeves and opera-length gloves, often sheer or adorned with bright embellishments. Another model in a lace-covered white bridal gown, inspired by traditional Balkan tribal wedding costume, threw her gauze veil out to her sides like wings, as if to illustrate the eternal power of virginity.
Accompanying the goddesses was an orchestral score so epic it could have been composed by John Williams for a Hollywood blockbuster — or by Richard Wager 200 years ago. Either way, Botezatu not only took us to another time, but to another world entirely.