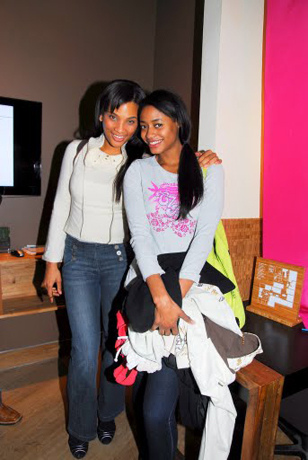 In case you haven't noticed it the new fashion apparel trend has a lot to do with Bikram Yoga or the art of practicing yoga. Never fond of arduous exercise or tight lycra outfits our curiosity got the better of us as we headed out last night to 'Phat Buddha' on the Upper West to meet Bravo's winner of the Judges Choice Award for 'The Fashion Show,' Daniella Kallmeyer who happens to be spearheading the new leisure line along with her partner Alisssa Benishi.
By the time we arrived we came across a gangly set of very fit and healthy (too healthy in our opinion- blah!) gangly types caressing their inner souls, the Upper West entourage and their admittedly very attractive (scant) outfits. In fact one of the models stopped and intimidated me by suggesting that she looked rather good in her wonderful outfit. I am afraid to say she did look wonderful, alas that is another article.
SCV: Is Yoga never a good idea for the feint of heart?
DK: No, it's a way of life, of spiritual enlightenment. That's why we came out with this line. We want you the wearer to feel uninhibited and relaxed, and to challenge notions that what you wear at yoga only stays in your yoga class.
SCV: Would it be awful to tell you I have only attended 2 yoga classes in my life and both were very painful.
DK: Yes, but then you felt immediately better after.
SCV: Yes, I usually feel better once any pain subsides. Tell me how did the idea come about to create a fashion line inspired from yoga?
DK: Alissa approached me at first and I thought oh no I can't do this I'm a high fashion designer, couture…
SCV: Yes, I understand, I am a high fashion paparazzo, continue…
DK: …and then I did my research and came to the conclusion that yoga is about a particular lifestyle and that lifestyle could be reflected in well made clothes, with patterns, design and really it's something that's been overlooked by the fashion community for so long.
SCV: Until now I assume…
(At this juncture another model comes scampering past and I am carefully, uhm observing the design…)
Yes, I tend to agree with you- it has a very relaxed, effortless feel about it.
DK: Yes, and we're making it in all the season's colors- from fire and ice for the fall to earth and wind for the summer, lot's of neon yellows, mist, jade colors. We've even added the hoodie so you can wear it out after work outs.
SCV: Yes it looks wonderful. But what if I'm not involved in any work out?
DK: Well, that's fine – you can still wear it, feel relaxed and enjoy in the fine material.
SCV: Any plans besides designing with yoga inspired themes?
DK: Yes, I'll be showing in February once Fashion Week starts up with the Young Designer's Forum.
At this moment I quietly bid both Daniella and Alissa good night before quickly reaching for my cigarettes once the door clanged shut behind me…