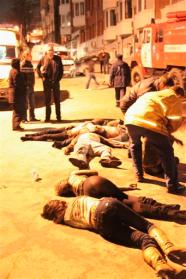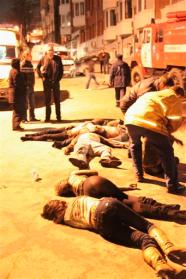 Fire hazards and other perils…
What do you make of a scene where pyrotechnics going off in a nightclub lead to a contagious fire and the semblance of a mass panic exodus? Death and destruction – lots of it. From Associated Press comes a horrifying edict of club owners who either don't care about fire codes, clubbers too enthralled by the trance and the money that seems to always take precedence over human lives. Keep running for those doors we say…
PERM, Russia — Panicked clubgoers crushed each other to death in a popular Russian nightspot as they tried to flee a fast-moving fire that one eyewitness told The Associated Press was started by pyrotechnic fountains set up on the stage.
Officials said 103 people died when the fire tore through the popular Lame Horse nightclub in the city of Perm late Friday, filling the crowded barracks-like building with thick black smoke. Authorities said they arrested the registered owner of the club and the manager.
But why did it even lead to this?
Officials said the club managers ignored repeated demands from authorities to change the club's interior to comply with fire safety standards. "They have neither brains, nor conscience," Russian President Dmitry Medvedev said, urging a tough punishment for the culprits.
Officials said most of the dead suffocated or were crushed at the exit.
Neither brains or conscience. Does that include the President himself too? After all last time life in Russia wasn't particularly peachy, unless of course you happen to be an oligarch (that the President doesn't mind…)
Russia has been on edge since last week's bombing of the high-speed Nevsky Express passenger train midway between Moscow and St. Petersburg, which killed 27 in the first deadly terrorist attack outside Russia's restive Caucasus republics since 2004. Chechen rebels claimed responsibility for the blast.
That's not a bad idea- let's blame it on the Chechen rebels (again)…
Russia a great place to visit if you don't mind explosions in nightclubs and outside them too…
Russian nightclub fire kills 103; many crushed – Associated Press