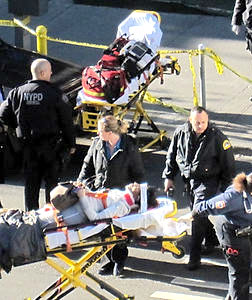 When violence is preferred…
This morning comes a horrific story of a triple homicide in supposedly one of the safest neighborhoods in New York City- the Upper West Side.
The details as according to the NY Post;
The holiday-season cheer of the trendy Upper West Side was shattered yesterday when a career criminal slaughtered three members of a family in their apartment — then plunged to his death after tripping over his baggy pants.

So much for Holiday cheer. What compels this type of behavior?
Gunman Hector Quinones blew away 24-year-old Carlos Rodriguez Jr., and his father Carlos Rodriguez Sr., 52, and then repeatedly stabbed grandfather Fernando Gonzalez, 87, to death before the elder Rodriguez's wife and adult daughter walked unwittingly into the carnage in the apartment they all shared.

As soon as Gisela Rodriguez, 49, and her daughter, Leyanis, 28, walked inside, Quinones, 44, opened fire again at the mother, grazing the back of her head, cops said.

Revenge? A bad drug deal? Heated argument? Mental instability? Robbery? Epidemic violence culturally ingrained? A bad drug trip, or just pure malice?
He then went after Gisela's daughter, who scrambled for safety and ran to a nearby bedroom. The killer was inches away from grabbing her but tripped over his low-slung pants, sources said.
A nightmare you wouldn't never want to live. And then there was the attempted escape…
Fleeing empty-handed, Quinones ditched his gun, a .380-caliber semiautomatic pistol loaded with hollow-point bullets, and made a dash down a rear fire escape.

But something went wrong…
But again, his low-slung pants fell to his ankles, tripping him and sending him falling three stories to his death, authorities said.

Again the low slung pants….But what was in the apartment?
Investigators found a "significant amount" of heroin and a smaller amount of cocaine inside the apartment, as well as a cash-stuffed lockbox that cops confiscated, Commissioner Ray Kelly said.

But who does these type of things?
The suspect, who has 14 prior arrests for offenses that include manslaughter, assault, drugs and robbery, knew Rodriguez Sr. from when they were in prison together, sources said.

And what does this all mean? Describing the death of Gonzalez-
"He was a family man," Columbus told The Post, after walking out of the 20th Precinct station house. "He loved his nieces and nephews."
In the end none of this makes sense, what sense can you make of senseless triple homicide?